Crab on charcoal crostini
Push the limits of your culinary creativity with this monochromatic canapé. It's edgy and totally fun.
Begin the monochromatic affair on the right note with a tray of butler-passed canapés. These elegant bites start with a building block of charcoal-darkened bread and end with a quenelle of glistening caviar.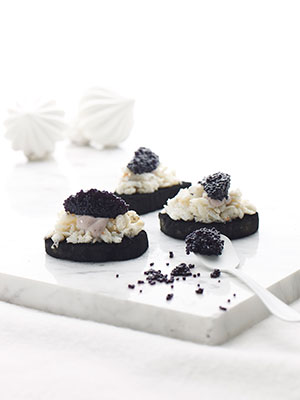 Serves 4 Prep time 50 minutes
Cook time 25 minutes plus 1 hour 10 minutes proof time
charcoal crostini
2 tsp dry yeast
1¼ cups warm water approximately 37˚C
3 cups bread flour + ¼ cup more, if required
1 tsp sea salt
1 tbsp charcoal powder (available at Bake King)
1 tsp garlic powder
1 tbsp olive oil
1 tsp fine cornmeal
Dissolve yeast in warm water in a large mixing bowl. Let stand for 5 minutes.
In a separate bowl, whisk together 3 cups bread flour, sea salt, charcoal and garlic powders. Add dry ingredients to the yeast and warm water.
Using a stand mixer fitted with a dough hook, mix the flour on the lowest speed until the ingredients form a sticky dough.
Transfer the dough to a clean, floured surface and knead with your hands until dough is smooth and elastic, around 8 to 10 minutes. Dust with remaining ¼ cup of bread flour if the dough is still too wet.
Place dough in a large bowl coated with cooking spray or oil. Coat the dough lightly with the oil, cover with a damp cloth and let rise in a warm place (approximately 55˚C) until doubled in size, at least 40 minutes.
Punch the dough down a couple of times to release trapped air, then knead again and return to the bowl. Cover and let rest for another 10 minutes.
Shape the dough into a baguette, approximately 2.5cm thick. Drizzle lightly with olive oil and dust with cornmeal.
Preheat oven to 225˚C. Place shaped roll on a baking tray lined with parchment paper and let rise a final 20 minutes, or until doubled in size.
Bake till exteriors are lightly crisp and insides are light and fluffy, about 25 minutes.
crab meat mix
2 fresh Sri Lankan crabs, cooked and meat picked
1 tbsp olive oil
2 tsp fresh lemon juice
pinch sea salt
30g dried ginger, minced
1 tbsp whipped heavy cream
55g black bean tofu, puréed
1 tsp ground black sesame seeds
sea salt and white pepper, to taste
35g black caviar
Combine picked crab with olive oil, lemon juice, sea salt and dried ginger. Toss well and keep chilled.
Combine whipped heavy cream, puréed tofu and ground black sesame seeds. Season with salt and pepper.
To assemble, arrange chilled crab meat on each crostini slice, dollop with tofu cream and top with a quenelle of black caviar. Serve immediately.
Excerpt from the December 2014 issue of epicure.