Cornbread muffins with corn & basil
No soul food meal is complete without the sweet-savoury taste of cornbread. These muffins deliver the required taste and texture—adding fresh corn and the herbal addition of fresh basil to give it a modern yet homey twist. Smear soft salted butter or a little goat cheese for the final flourish.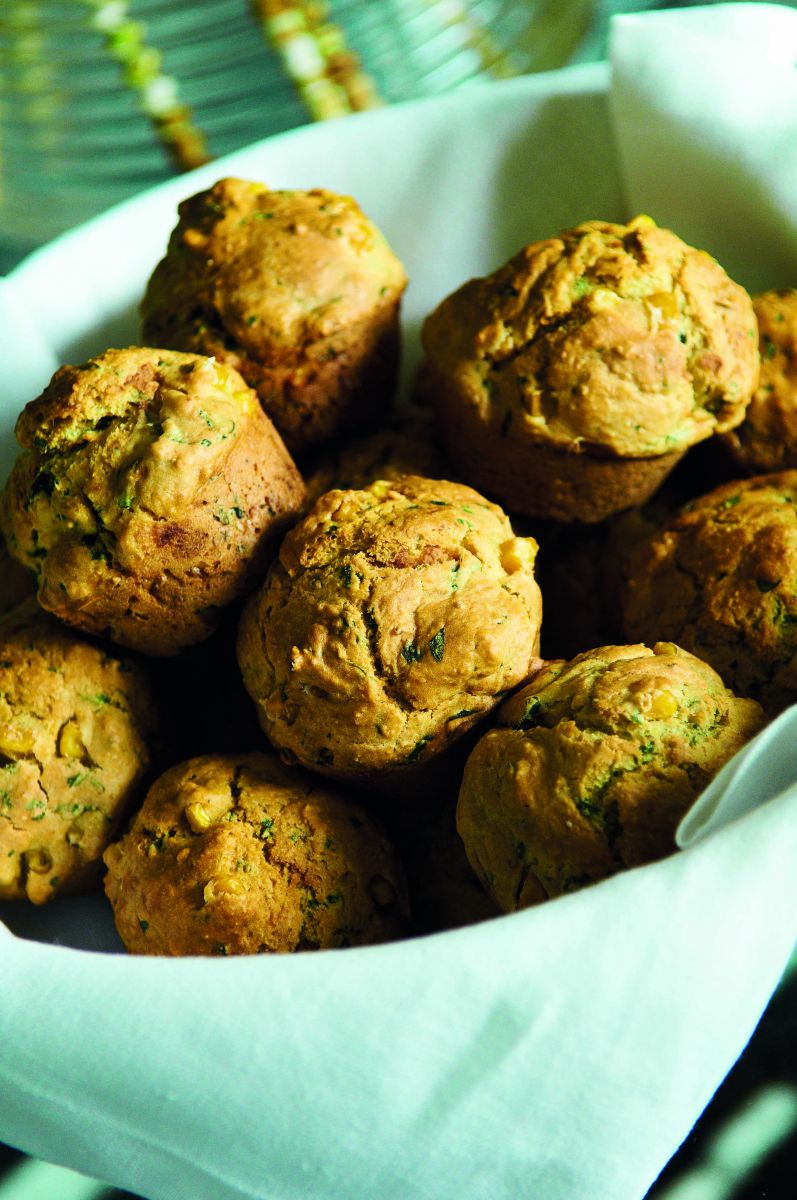 Serves 12 muffins Prep time 10 minutes
Cook time 30 minutes
2 cups all-purpose flour (plus extra to powder the muffin tins)
¼ cup cornmeal
1½ tsp baking powder
½ tsp baking soda
1 tsp salt
2 tsp sugar
¼ tsp chilli powder
1¼ cups buttermilk
1 large egg, beaten
¼ cup unsalted butter, melted (plus extra butter to coat the muffin tins)
1 cup fresh corn kernels (approximately 2 cobs of corn)
¼ cup fresh basil, coarsely chopped
80g salted butter of goat cheese (optional)
Preheat oven to 190°C.
In a mixing bowl, combine flour, cornmeal, baking powder, baking soda, salt, sugar and chilli powder.
In another mixing bowl whisk together the buttermilk, egg and melted butter.
Combine wet and dry ingredients, mixing to form an even batter with no lumps.
Add the fresh corn and basil and fold to distribute evenly throughout the batter.
Coat the muffin tins first with butter then a light sprinkling of flour. Pour in batter to nearly the top of each muffin tin (use a cup scoop for equal measurements).
Bake muffins for 25 to 30 minutes or until golden on top. Prick a muffin with a toothpick to ensure insides are done (toothpick should come out dry). Allow the muffins to cool for 5 minutes before removing them from tins. Then, if desired, smear a little salted butter or goat cheese on the top point of muffin (optional) and serve.