Confit duck leg with foie gras, pickled rhubarb, assam-balsamic reduction and sweet potato puree
Confit Duck Leg with Foie Gras, Pickled Rhubarb, Assam-Balsamic Reduction and Sweet Potato Puree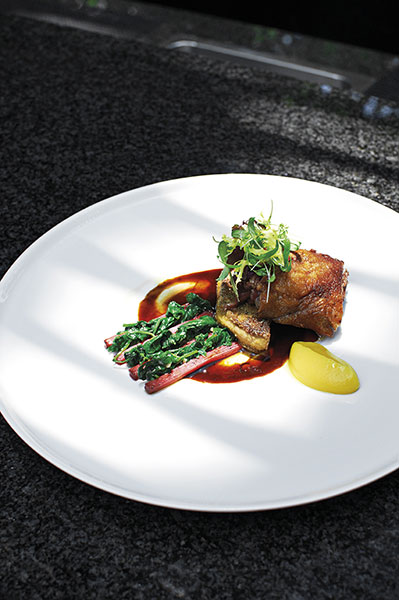 Serves 8
Prep time 30 minutes
Cook time 2 hours 15 minutes
pickled rhubarb
1 stalk of rhubarb, skin intact
200ml Port
200ml cranberry juice
20ml acacia honey
Combine the ingredients into a vacuum sealed bag, and sous vide at 65°C for 20 minutes.
Remove the rhubarb, peel off its skin, and cut into it 4 pieces, each about 7cm long.
confit duck leg
4 pcs duck leg
150g shallots
50g whole garlic
10g thyme
5 bay leaves
30g juniper berries
500g duck fat
Season the duck legs with the shallots, garlic, thyme, bay leaves and juniper berries, and place the duck legs and fat into a metal insert. Cover with aluminium foil and bake at 140°C for 2 hours.
assam-balsamic reduction
75g assam paste
200ml balsamic vinegar
150g sugar
Combine the ingredients and bring to a boil. Reduce till mixture turns thick.
Japanese sweet potato purée
300g Japanese sweet potato
150ml orange juice
50g unsalted butter
Boil the sweet potato till soft and remove its skin. In a blender, blend it with orange juice and add butter to finish.
80g baby spinach
1 tsp minced garlic
salt and pepper, to taste
40g duck foie gras
50g polenta
50ml sherry vinegar
In a pan, sauté the baby spinach, garlic and salt and pepper till garlic turns brown. Set vegetables aside.
Coat the foie gras with polenta, and sear it till the crust turns crisp. Deglaze with sherry vinegar and season with salt and pepper.
On a plate, spread the assam balsamic reduction, and arrange the rhubarb, confit duck legs, sweet potato purée, vegetables and foie gras on top.