Classic tiramisu
CLASSIC TIRAMISU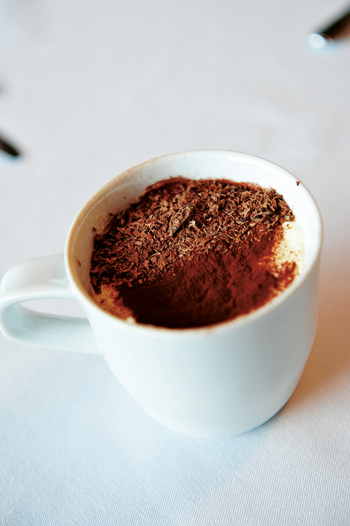 Serves 6 Prep time 30 minutes + 2 hours chill time
4 egg yolks
150g caster sugar
40ml Marsala wine
400g mascarpone cheese
200ml whipped cream
200g Savoiardi biscuits (ladyfingers)
6 shots ristretto
60g cocoa powder, for dusting
• Using an electric mixer, beat egg yolks with sugar and Marsala wine until pale and creamy. Slowly add the mascarpone cheese a little at time, making sure that the mixture doesn't split. Fold in the cream gently and set aside.
• Soak the lady's fingers in the ristretto and line them in a single layer in a clear plastic mould or glass bowl, slicing them to fit as necessary. Cover with a layer of the mascarpone mixture and repeat, finishing with a final mascarpone layer.
• Tap the base of the bowl or glass gently to remove any air bubbles and to even out the mascarpone layers. Set in the fridge for 2 hours and dust with cocoa powder before serving.