Cinnamon mascarpone affogato
Lay a fresh sprig of rosemary over each glass so the hot coffee can release its herbaceous scent over the mascarpone cream.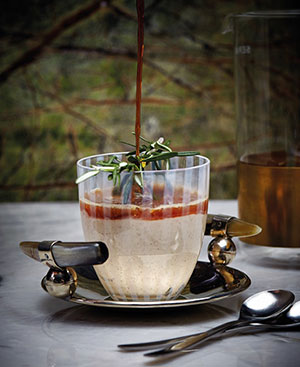 Serves 4 Prep time 30 minutes + 3 hours chill time
Cook time 10 minutes
100g sugar
10g ground cinnamon
3 egg whites
125g mascarpone
250ml whipping cream
4 stalks fresh rosemary
4 shots espresso, freshly brewed
Melt sugar in a pan with 100ml water and reduce the mixture by half. Let cool.
Add ground cinnamon to the sugar mixture with egg whites and mascarpone. Mix till homogenous, then add whipping cream in a slow steady stream, mixing very slowly till it aerates into a mousse.
Divide mousse into serving glasses till half full. Keep chilled for at least 2-3 hours.
Just before serving, top each glass with a rosemary branch and pour over a shot of espresso over each glass. Serve immediately.
Credits: Horota tumbler, atomi; silver horn tray, Strange & Deranged; Sori Yanagi dessert spoons, kapok; Serax copper carafe, edit lifestyle