Chye poh hor fun in opeh leaf
Before plastic bags and waxed paper became the takeaway norm, noodles were wrapped in opeh leaf, the inner sheath of the betel tree bark. While it's impossible to recreate the charred bits of wok hei in this staple, the hardy opeh instills a slight woody fragrance.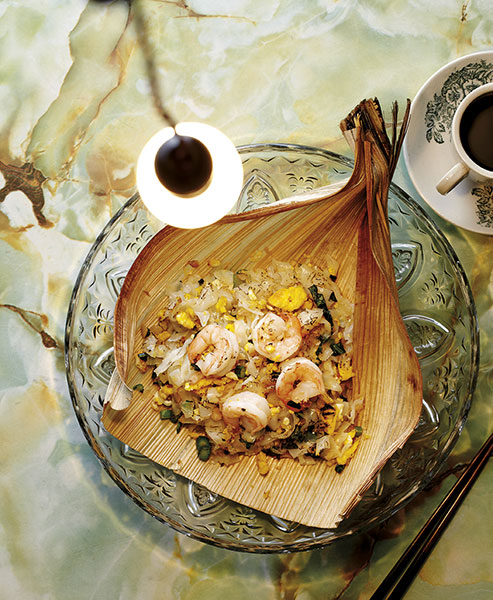 Serves 4
Prep time 1 hour 10 minutes (including soak time)
Cook time 15 minutes
6 tbsp cooking oil
4 eggs
2 cloves garlic, minced
60g chye poh or preserved sweet turnip, soaked in water for 30 minutes and drained
300g prawns, cleaned and shelled
150g kai lan or Chinese broccoli, roughly chopped
600g kway teow or broad flat rice noodles
3 tbsp fish sauce
½ tsp white pepper powder
1 sheet opeh leaf (available at Tekka or Geylang Serai market), softened in hot water for 5 minutes and dried
Heat cooking oil in a wok and scramble eggs over high heat till slightly foamy. Add chopped garlic and preserved radish. Stir-fry until fragrant.
Add in prawns and cook for 2 minutes before stirring in chopped kai lan and kway teow. Continue to cook the noodles over high heat, seasoning with fish sauce and pepper powder.
Trim the opeh leaf to 4 squares and use to line 4 serving dishes. Divide the noodles equally amongst the dishes and serve hot.