Chocolate mousse cake with calamansi cream and pineapple chutney
CHOCOLATE MOUSSE CAKE WITH CALAMANSI CREAM AND PINEAPPLE CHUTNEY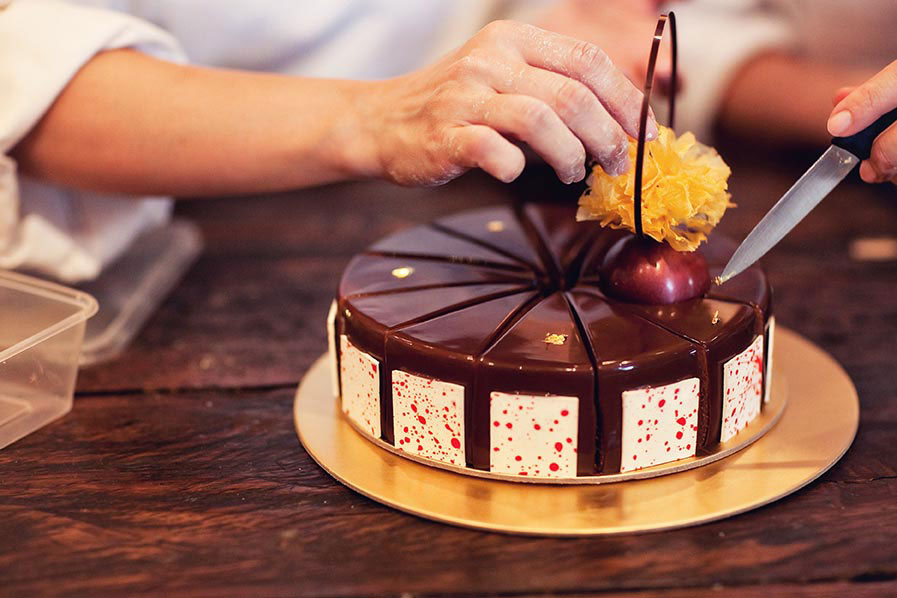 Serves 8-10 Prep time 60 minutes + 2 hours freeze time
Cook time 60 minutes
chocolate mousse
75g sugar
15ml water
75g eggs, beaten
50g egg yolks, beaten
200g dark chocolate coverture (55% cocoa solids)
260g whipped cream
5g gelatine
• Combine sugar and water and set to a boil at 121°C. Pour mixture onto the combined eggs and egg yolks to make a pâte à bomb. Beat until completely cool.
• Melt the dark chocolate coverture at 40°C. Pour in ¼ of the whipped cream and mix briskly to obtain a smooth ganache. Add the pâte à bomb and remaining whipped cream. Mix gently.
cashew biscuit
450g egg whites
160g brown sugar
270g icing sugar
140g ground almonds
90g cake flour
320g cashew nuts, chopped
• Whisk egg whites and brown sugar till they form a stiff meringue. Combine the remaining ingredients and stir well.
• Shape dough into two round cake moulds and bake at 170°C for approximately 30 minutes.
pineapple chutney
200g fresh pineapple, diced
20g passion fruit purée
60g pineapple purée
1 vanilla bean, seeds scraped
2g pectin (available at Poon Huat)
25g fine sugar
• In a saucepan, cook diced pineapple over low heat. Slowly add the purées in three parts. Cook till soft and tender.
• Add in vanilla, pectin and sugar and remove from heat.
Italian meringue
225g sugar
50ml water
100g egg whites
• Combine 200g sugar with water and set over a high heat. Using a thermometer, boil till it reaches a temperature of 121°C.
• Meanwhile, beat egg whites with remaining sugar till they are softly whipped. Add the syrup from the previous step and mix into the egg whites till they reach firmer peaks.
calamansi cream
6g gelatine leaves
50g calamansi purée, chilled
350g whipped cream
• Soak gelatine in cold water to soften. After 10-15 minutes, squeeze excess water and melt gelatine over a hot water bath.
• Mix the chilled purée and meringue, adding the whipped cream last. Add hot gelatine water and mix gently.
• To assemble cake, stack the different layers in a round pan in the following order: chocolate mousse (up to the sides), cashew biscuit, pineapple chutney, chocolate mousse, cashew biscuit and calamansi cream. Chill in the freezer for approximately 2 hours.