Chocolate fondant cake with salted hazelnut brittle and crème anglaise
Nothing fixes a bad day like chocolate - an oozing, molten heap of it. Elevate your take on the by-now ubiquitous chocolate fondant cake with a sprinkle of salted hazelnut brittle and a dollop of indulgent creme anglais.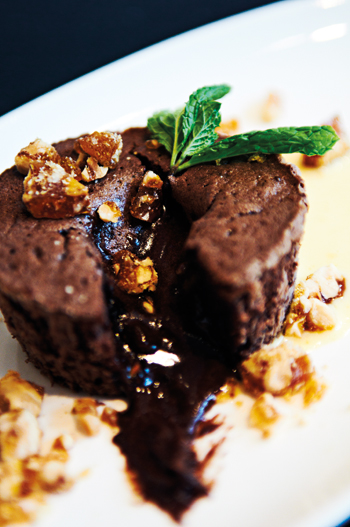 Serves 4 Prep time 20 minutes
Cook time 45 minutes
crème anglaise
1 cup heavy cream
1 vanilla pod, seeds scraped
cup granulated sugar
4 egg yolks
In a small saucepan, combine heavy cream and vanilla and set over medium heat for about 3 minutes.
Whisk sugar and egg yolks in a separate bowl and set aside.
Add of warmed cream to the egg and sugar mixture and whisk. Slowly add this mixture back to the remaining heavy cream while constantly whisking (this will temper the eggs and prevent them from curdling).
Continue cooking over low heat until the mixture is thick enough to coat the back of a spoon.
Remove from heat and strain. Then set aside to cool over an ice bath.
salted hazelnut brittle
1 cup fine sugar
½ cup water
2 tbsp honey
½ cup hazelnuts, coarsely chopped
1 tsp kosher salt
Place sugar, water and honey in a saucepan and stir to combine.
Cook over medium-high heat without stirring, until the mixture starts to caramelise and turn brown, about 15 minutes.
Gently stir mixture until it becomes an even deep amber colour.
Remove from heat and quickly mix in nuts and salt.
Spread mixture over a silpat or lined baking sheet in an even layer and let cool. Once the mixture has hardened, break into coarse pieces.
chocolate fondant cake
50g melted butter
all-purpose flour, for dusting
200g good quality dark chocolate, chopped
200g unsalted butter, cubed
4 whole eggs
4 egg yolks
200g granulated sugar
200g all-purpose flour
Preheat oven to 180˚C.
Brush cupcake moulds or soufflé dishes with melted butter, then dust lightly with all-purpose flour to prevent the cake from sticking. Shake off any excess flour.
Place chocolate and butter in a bowl and melt over a pan of water on low heat.
Once smooth, remove from heat and let cool.
Using an electric mixer, whisk eggs, yolks and sugar until pale and creamy.
Sift flour into the egg and sugar mixture and fold in gently. Then fold in the melted chocolate.
Divide batter into moulds and bake for 10 to 12 minutes.
Let cakes rest for 1 minute before loosening them with a paring knife and inverting them onto a plate.
Serve with crème anglaise and salted hazelnut brittle.