Chilli bean lobsters with lily flower bulbs and chinese rose wine
This dish exemplifies savoury perfection: chilli bean sauce stir-fried with lobsters and enhanced by the fragrance of rose wine before being steeped in chicken stock.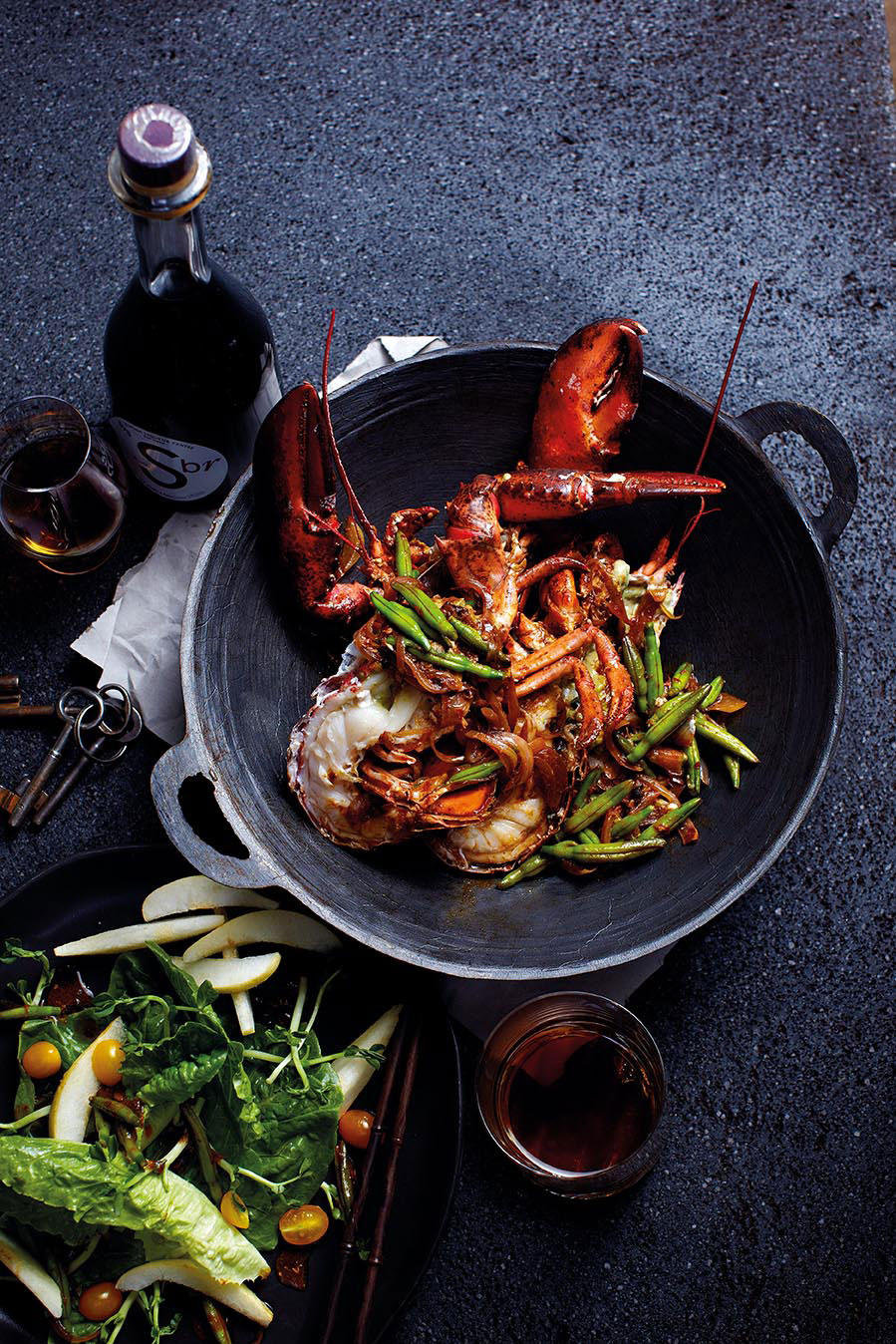 Serves 4 Prep time 10 minutes
Cook time 20 minutes
3 litres water
1 tbsp rock salt
2 Boston lobsters, cleaned
marinade
1 tbsp peanut oil
3 tbsp shallots, diced
1 tbsp garlic, minced
1 stalk spring onion, smashed
1 tbsp dried scallop, shredded
4 tbsp Chinese rose wine
¼ cup chicken stock
2 tbsp chilli bean sauce
100g lily flower bulbs, lightly blanched (from Cold Storage or wet markets)
pinch salt and white pepper
dressing
2 tbsp chilli bean sauce
4 tbsp olive oil
pinch salt and pepper
2 tbsp orange juice
2 tsp apple cider vinegar
garnish
2 tbsp crispy shallots
100g iceberg lettuce, about ½ a head, cut to bite-sized pieces
1 Chinese pear, deseeded and cut to bite-sized pieces
25g bean sprouts
Heat a pot of water with salt and bring to a boil. Blanch lobsters in the pot for 4-6 minutes.
Remove lobsters and quickly soak in ice-cold water for 5 minutes, or until cooled.
Cut lobsters into half, with heads still attached.
To make marinade, heat a big wok with peanut oil and fry the shallots till fragrant. Add garlic and fry till golden brown.
Add spring onions, scallop and lobsters, then deglaze with Chinese rose wine. Let it simmer and boil till the mixture is almost dry.
Add chicken stock, chilli bean sauce and lily flower bulbs. Let it simmer till the sauce thickens. Season to taste with salt and pepper.
Combine dressing ingredients well in a bowl. Serve lobsters with garnish and dressing.