Chilled lobster grapefruit salad
Lobster is often smothered in cheese or butter, which detracts from its own rich flavour. Here, it is paired with fresh pink grapefruit and avocado for just the right dose of creaminess.
Serves: 4
Prep time: 15 minutes + 30 minutes chill time
Cook time: 10 minutes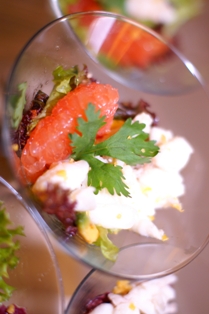 2 lobsters or 280g fresh lobster meat
2 large pink grapefruits
1 ripe avocado, halved and pitted
squeeze of lemon juice
2 spring onions, chopped
1 handful flat leaf parsley
1 handful frisée or romaine lettuce
2 tbsp hazelnut oil
1 tbsp olive oil
salt and pepper to taste
zest of half a lemon
Bring a large pot of salted water to the boil. Add lobsters headfirst and cook until bright red, about 10 minutes. Drain and rinse.
Twist off claws and tails. Split tail lengthwise with a sharp knife and remove lobster meat. Slice into bite-size pieces, cover with cling film and chill in the refrigerator for about 30 minutes.
Meanwhile, peel the grapefruits, taking care to remove the piths. Segment into small sections and remove white membranes. Reserve juices.
Cut avocado into chunks and add to grapefruit and juices, along with a squeeze of lemon.
Mix chopped spring onions, parsley leaves and lettuce in a bowl.
Dress with hazelnut and olive oil, salt and pepper.
Add chilled lobster to the avocado and grapefruit mix. Mix well and toss evenly with dressed greens. Garnish with some lemon zest and serve.