Chilled blueberry soup with poire william pear liqueur
CHILLED BLUEBERRY SOUP WITH POIRE WILLIAM PEAR LIQUEUR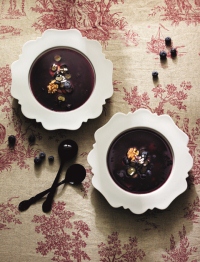 CHILLED BLUEBERRY SOUP WITH POIRE WILLIAM PEAR LIQUEUR
Serves 4
Prep time 4 minutes + 4 hours chill time
Cook time 25 minutes
65g rock sugar
45g brown sugar
12 mint leaves, crushed
1 cup Poire William pear liqueur (available at Jasons Market Place)
550g blueberries
1 Packham pear, core removed, peeled and diced. (available at Cold Storage)
10 Maraschino cherries
pinch nutmeg, freshly grated
2 cups water
garnish
3g mint leaves
1 tbsp blueberry jam
1 scoop ice cream
Heat up a non-stick pot with rock sugar and brown sugar, and lightly caramelise them till light golden brown.
Add mint leaves and deglaze with Poire William pear liqueur, or substitute with pear cider.
Let mixture simmer, then add blueberries, pear, cherries, nutmeg powder and water.
Cook for 20 minutes on low heat and season to taste.
When it is cooled, use a hand blender and purée to a soup-like texture.
Chill for approximately 4 hours then garnish and serve with a scoop of ice cream.
Excerpt from the November issue of epicure.