Chicken makhni (butter chicken)
"I am inspired to try the butter chicken recipe. It was so tender and creamy, definitely my favourite of the lot." —Lee Bee Hian
"I am inspired to try the butter chicken
recipe. It was so tender and creamy,
definitely my favourite of the lot."
—Lee Bee Hian
Serves 4 Prep Time 2 hours 15 minutes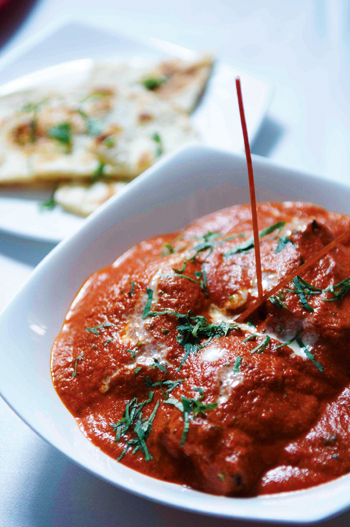 Cook Time 25 minutes
250g boneless chicken thighs
tikka marinade
250ml thick yogurt
2 tbsp ginger garlic paste (combining equal parts chopped garlic and pounded ginger)
1 tsp red chilli powder
salt (to taste)
3 drops orange-red colouring (available at Phoon Huat)
2 tsp olive oil
1 tsp garam masala powder (available at Mustafa Centre)
makhni gravy
30ml olive oil
400ml canned tomato purée
1 tsp red chilli powder
1 tsp ginger powder
1 tsp kasuri methi (fenugreek) leaves (available at Mustafa Centre)
2 tbsp cashew paste (made by grinding
raw cashew nuts with water)
1 tbsp honey
¾ tsp garam masala powder
salt (to taste)
2 tbsp cooking cream
• Mix all the ingredients for the tikka marinade together. Coat chicken pieces with the mixture and refrigerate for 2 hours.
• Pre-heat the oven to 250˚C. Arrange the marinated chicken pieces on skewers and grill for 10 minutes. (If the chicken is going to be served without the gravy, cook for an additional 3 minutes.)
• For the makhni gravy, heat olive oil in a pan over low heat. Add in the tomato purée and cook for 4 minutes.
• Add the chilli and ginger powder, kasuri methi leaves, cashew paste, honey and garam masala. Bring to a boil.
• Add in cooked chicken tikka pieces and simmer for five minutes.
• Add salt to taste. Remove from heat and garnish with swirls of cooking cream before serving.