Cheesecake praline with oreo cookies, pistachios and coconut
CHEESECAKE PRALINE WITH OREO COOKIES, PISTACHIOS AND COCONUT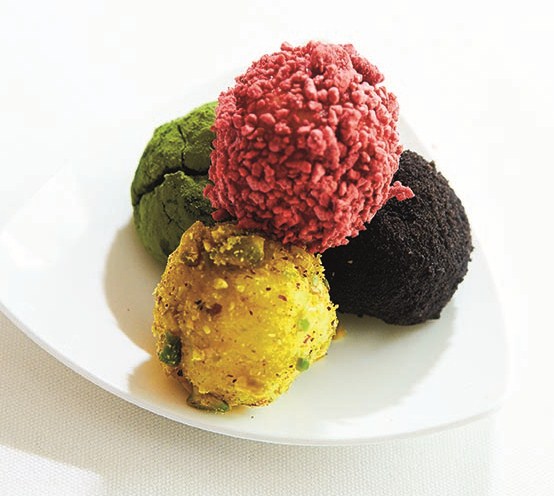 Serves 8
Prep time 45 minutes + 24 hours freezing time
cheesecake mixture
1 sheet gelatin
250ml cold water
226g cream cheese, softened
57g sugar
180ml milk
60ml lemon juice
240ml whipping cream, whipped
coating
freeze-dried raspberry
pistachio, ground
green tea
coconut flakes
oreo cookies, crushed
Soften the gelatin in water and stir over low heat until dissolved.
With electric mixer on medium, combine the cream cheese and sugar until well blended. Gradually add dissolved gelatin, milk and lemon juice. Mix until well blended.
Chill until slightly thickened and fold in the whipped cream.
Pour the cheesecake mixture in a tray and chill until firm for about 2 hours.
Scoop the cheesecake mixture with an ice cream scoop or spoon and shape into little round balls of about 10g each.
Coat each ball with your choice of freeze-dried raspberry, ground pistachio, green tea or coconut flakes.
Tip: Setting the cheesecake mixture a day ahead will allow better handling; try to do the molding of the cheesecake early in the morning or in a cool room.