Chardonnay & green grape jelly with serrano ham
Hansen says: "The Chardonnay jelly spiked with grapes and star anise, complements the saltiness of Serrano beautifully."
Serves 6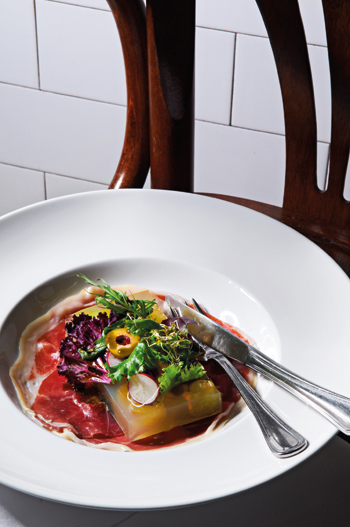 Prep time 30 minutes
Cook time 5 minutes
500ml good quality Chardonnay (preferably oaked)
1 star anise pod
10g neutral agar agar powder
350g green table grapes, washed & removed from stalks
18 slices Serrano ham, boneless
200g mesclun salad mix
6 large green olives stuffed w chilli
Freshly ground black pepper
10ml balsamic vinegar
60ml extra virgin olive oil
• Into a stainless steel saucepan, pour the Chardonnay and add the star anise pod and agar agar powder. Whisk and bring to the boil.
• When it comes to the boil, immediately take it off the heat and allow to cool slightly. Remove the star anise.
• Place the washed grapes into a square or rectangular cake tin and pour over the warm Chardonnay. Allow to set in the refrigerator for 2 hours.
• Remove set jelly from mould and slice into 6 equal sized portions.
• Prepare 6 round appetiser plates and arrange 3 slices of Serrano ham on each plate around the outer edge.
• Place a slice of the Chardonnay jelly in the centre of each plate. Garnish the centre of each jelly with some mesclun salad, a sliced green olive and a sprinkle of black pepper.
• In a jar shake together the vinegar and the olive oil. Dress the salad with the resulting shaken vinaigrette. Serve immediately.
Hansen says: "The Chardonnay jelly spiked with grapes and star anise, complements the saltiness of Serrano beautifully."