Cevapcici
Small grilled rolls of minced meat usually served with chopped onions and cottage cheese. The best ones are believed to come from Leskovac city, using 100 percent beef. The Serbian and Macedonian versions are made with beef and pork, but the Bosnian version is made from lamb and beef.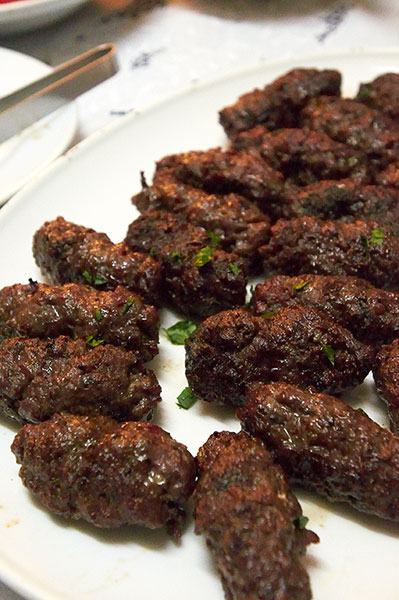 Serves 5 Prep time 15 minutes
Cook time 10 minutes
800g ground beef
200g ground mutton
100g onions, finely chopped
5 cloves garlic, finely chopped
salt and pepper to taste
1 tsp cayenne pepper powder
20ml vegetable oil
• In a large bowl, combine minced beef, mutton, onions, garlic, salt, pepper and cayenne pepper. Mix well and set aside in refrigerator for 1 day.
• 5 hours before cooking, mix the ingredients again, by hand. Form small sausages about 8cm by 2cm. Return sausages to the fridge until they are ready to be grilled.
• Grill sausages for about 5 to 10 minutes, turning and brushing them occasionally with oil.
• Serve hot.