Catalunya's seafood fideuà
For intense flavour, add crab and lobster shells to your fumet or seafood stock.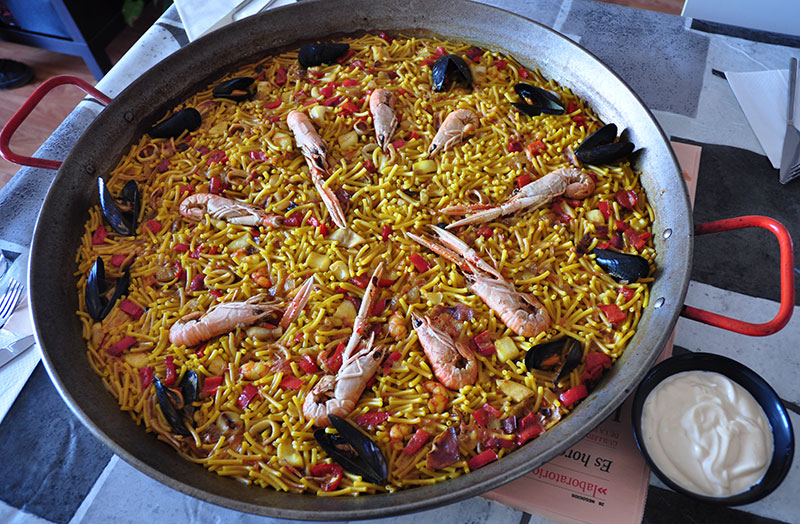 Serves 3 Prep time 1 hour
Cook time 2 hours 15 minutes
parsley oil
20g fresh parsley, leaves only
2 garlic cloves, peeled
15ml sunflower oil
Combine all ingredients in a blender. Blend until emulsified.
fumet (stock)
100ml olive oil
50g white onion, roughly chopped
50g carrots, roughly chopped
40g leeks, roughly chopped
40g fennel, roughly chopped
1 whole garlic bulb, halved
1⁄2 tsp smoked sweet paprika
100g tomatoes on vine, blended
200g flower crabs, halved
200g crayfish, halved
160g fish bones
80g prawn shells
80g lobster shells
21⁄2 litres water
In a large stock pot, preheat olive oil. Add all vegetables and garlic except blended tomato. Cook until vegetables have softened, approximately 15 minutes.
Preheat oven to 210°C. Add paprika to simmering vegetables, cook for 3 minutes and pour in blended tomatoes. Cook for 5 minutes over a low fire.
Place crabs, crayfish, fish bones, prawn and lobster shells on a baking tray in a single layer.
Toss seafood with a drizzle of olive oil and roast in the preheated oven for approximately 30 minutes.
Transfer shellfish to the stock pot, add water and bring to a boil. When it has reached a boil, lower heat and simmer for 45 minutes. Strain and set aside.
sofrito base
1 whole calamari, approximately 240g
180ml olive oil
20ml brandy
15g green capsicum, finely chopped
15g red capsicum, finely chopped
pinch smoked sweet paprika
120g yellow onions, finely chopped
15g garlic, minced
60g tomato, finely grated
salt and pepper, to taste
Clean calamari and dice into 1cm pieces.
Heat 30ml olive oil in a saucepan and cook calamari until any resulting juices have evaporated.
Pour in the brandy and flame off alcohol. Stir in capsicum and cook for 5 minutes until soft. Add paprika and stir well. Set aside.
In a separate sauté pan, mix chopped yellow onions and remaining olive oil. Confit onions until golden brown over medium heat, stirring constantly. Add minced garlic and grated tomato. Cook for another 5 minutes.
Drain excess oil from onion confit and combine with reserved calamari. Season to taste.
seafood fideuà
60ml olive oil
120g filini pasta
4 scampis, halved lengthwise
4 tiger prawns, peeled and cleaned
120g sofrito base
20ml parsley oil
10 saffron pistils
1⁄2 tsp smoked sweet paprika
750ml fumet (stock)
salt, to taste
10g parsley, chopped
10 mussels, scrubbed and cleaned
Preheat sauté pan with 30ml olive oil. Add filini pasta and toast until lightly browned.
In a 13-inch paella pan, heat remaining olive oil. When hot, sear scampi and prawns until they just turn pink. Remove from pan and set aside. Add sofrito base, parsley oil, saffron and paprika in the paella pan. Cook briefly until well mixed and aromatic.
Mix in toasted filini pasta and 500ml fumet. Spread the pasta evenly throughout the pan and cook over high heat until fumet is about to dry out, approximately 10 minutes.
Preheat oven to 250°C.
Add remaining fumet to paella pan, seasoning with salt if it's too mild at this point. Bring to a boil, then transfer to the oven until fumet is almost dried out, approximately 5 minutes or more.
Arrange scampi, prawns and mussels over the pasta. Return to the oven until liquid fumet is completely dried out and the pasta along the sides of the pan is slightly charred. Sprinkle with chopped parsley.
Read more in the July 2015 issue of epicure.