Casablanca stuffed tomatoes
This amazing salad of stuffed tomatoes with couscous makes a delicious appetiser and is easy to prepare.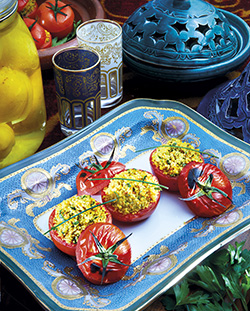 Serves 4 Prep time 15 minutes
Cook time 25 minutes
preserved lemons
1 lemon, quartered and soaked in warm water with salt and white vinegar for approximately 3 weeks in a jar.
stuffed tomatoes
150g couscous
½ tsp salt
150ml warm water
3-4 tbsp olive oil, plus extra for drizzling
4 large tomatoes
1 onion, finely chopped
1 carrot, peeled and diced
sprinkling of sugar
1-2 tsp Ras el-hanout (available from Mustafa Centre, supermarkets or wet markets)
sea salt and freshly ground black pepper
bunch of fresh flat leaf parsley,
finely chopped
bunch of fresh coriander, finely chopped
½ preserved lemon, finely chopped
Preheat the oven to 180°C.
Place couscous in a bowl. Stir the salt into the warm water and pour it over the couscous, stirring all the time so that the water is absorbed evenly.
Leave the couscous to swell for about 10 minutes before using your fingers to rub 1 tbsp of olive oil into the couscous grains to break up the lumps and aerate them.
Slice off the top of each tomato and set aside. Using a spoon, scoop out the pulp and seeds and reserve in a bowl.
In a heavy-based saucepan, heat the remaining olive oil and stir in the onions and carrots.
Fry until they begin to caramelise, then stir in the tomato pulp and sugar.
Add Ras el-hanout and cook until the mixture forms a thick sauce. Season to taste with salt and pepper.
Tip the spicy tomato mixture onto the couscous and mix well. Add fresh herbs and preserved lemon and toss until it is thoroughly combined.
Spoon the couscous mixture into each tomato cavity and place a top on each one like a lid.
Place filled tomatoes in a baking dish, drizzle with a little olive oil and bake in the preheated oven for about 25 minutes.
Serve hot or leave to cool and eat them at room temperature.