Carrot coriander soup
CARROT CORIANDER SOUP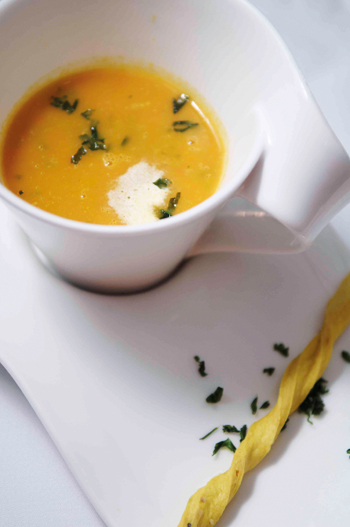 Serves 4 Prep Time 10 minutes
Cook Time 15 minutes
2 tbsp olive oil
15 black peppercorns
2 bay leaves
1 tbsp fennel seeds
1 large red onion, chopped
400g grated carrots
1.5 litre water
salt (to taste)
10g coriander, stems removed and chopped
2 tbsp cooking cream
• Heat olive oil in a pan over medium heat. Add the peppercorns, bay leaves and fennel seeds.
• Sauté till fragrant, about 4 minutes. Add chopped onions and sauté till they turn translucent.
• Add the grated carrots and water, cooking the mixture until the carrots have softened, about 6 minutes. The mixture should still be slightly watery. Remove the bay leaves.
• Using a hand blender or a mixer, purée the soup on a high setting until it has reached a smooth consistency.
• Return the soup to a saucepan on low heat. Add salt to taste and chopped coriander. When it is just about to boil, turn off heat and stir in the cooking cream.