Buffalo ricotta cheese souffle with caramelised figs and parmesan cream cheese
Buffalo Ricotta Cheese Souffle with Caramelised Figs and Parmesan Cream Cheese
Tortino di Ricotta di BuFala, Fichi Caramellati e Crema al Parmigiano
Buffalo Ricotta Cheese Soufflé with Caramelised Figs & Parmesan Cheese Cream
Recommended wine: Isole e Olena, Chardonnay 2008, Tuscany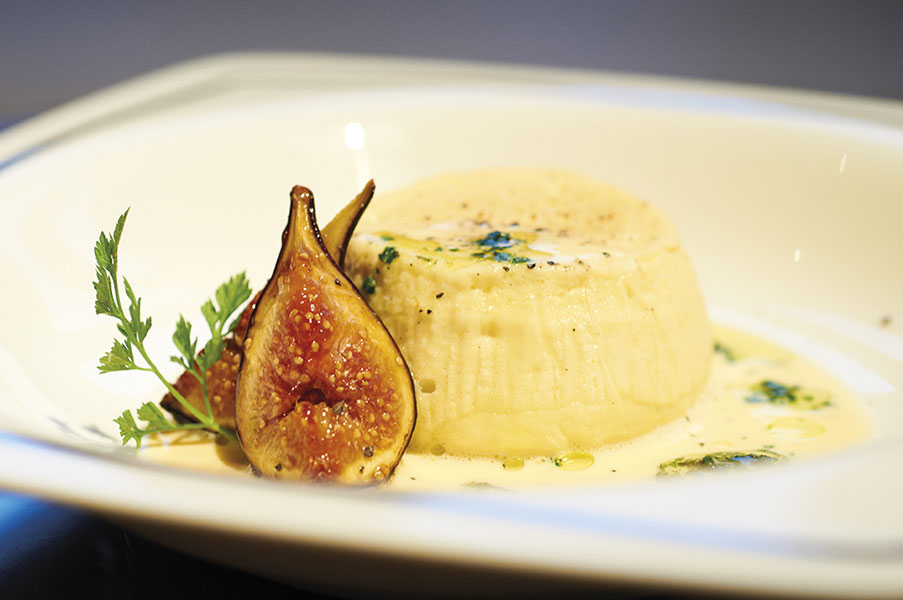 Serves 4
Prep time 10 minutes
Cook time 15 minutes
buffalo ricotta cheese souffle
30g butter, melted or butter spray
4 egg whites
300g buffalo ricotta cheese
60g Parmesan cheese
4 egg yolks
20g plain flour
Grease four ramekins with melted butter or a light coating of butter spray. Preheat oven to 150°C.
Using an electric mixer or whisk, beat egg whites in a large bowl till fluffy and soft peaks form.
In a separate bowl, combine ricotta cheese, Parmesan and egg yolks and mix to a creamy consistency. Gradually add in flour until well combined.
Add a quarter of the beaten egg whites to the cheese mixture and using a large spoon, fold in gently until well combined. Repeat with the remaining egg whites.
Divide soufflé mixture into the prepared ramekins and place them on a preheated baking tray. Bake till slightly puffed and risen, about 5 minutes.
caramelised figs
50g sugar
4 figs, halved
2 stalks fresh rosemary
Add sugar to a saucepan over low heat. When the sugar starts to bubble and caramelise, add the figs and rosemary. Cook for 3 to 4 minutes or until figs turn golden brown. Remove from pan and set aside.
Parmesan cream
200ml whole milk
10g grated Parmesan cheese
2 egg yolks
Bring milk to a boil in a small saucepan over medium heat. Add the Parmesan cheese and remove mixture from heat when cheese has completely melted.
Allow the mixture to cool down before beating in the egg yolks. Serve warm over buffalo ricotta cheese soufflé, with caramelised figs on the side.