Broth-infused tagliatelle
Inspired by the prawn noodle hawkers, the egg pasta is covered under a lid, allowing the rich broth to seep into the pasta for deeper umami and flavour.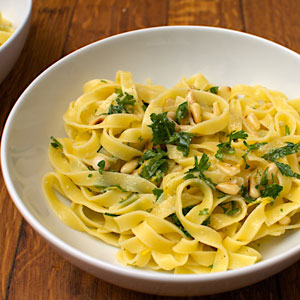 Serves 2 Prep time 15 minutes + overnight soak time
Cook time 45 minutes
50g dried scallops
300ml chicken stock
100g egg tagliatelle
100g crabmeat
2 tbsp olive oil
20g garlic, chopped
20g shallots, chopped
20g salted seaweed
salt and pepper, to taste
5g spring onions, finely chopped
Rehydrate the scallops in warm water. Leave covered at room temperature overnight. Drain before use.
Combine rehydrated scallops and chicken stock in a pot, bring to a boil and let simmer for 20 minutes. Leave scallops to infuse in the pot, straining only when stock is required.
Bring a large pot of salted water to boil. Cook tagliatelle to half the cooking time stated on the package (the pasta will continue to cook in stock for a richer, fuller flavour). Drain and reserve.
Ensure crabmeat is free from shell bits. Warm olive oil in a large sauté pan. Cook garlic and shallots lightly till golden brown. Add crabmeat and salted seaweed. Sauté over medium heat for 1-2 minutes.
Strain reserved stock directly into the pan and add reserved pasta. Bring up to a boil and cover. Finish cooking the pasta in stock, covered, until the remaining stated cooking time or until you reach your desired texture.
Season with salt and pepper, then garnish with spring onions.