Braised osmanthus with homemade beancurd
BRAISED OSMANTHUS WITH HOMEMADE BEANCURD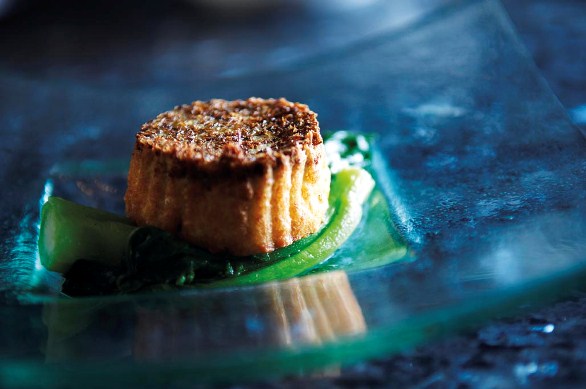 Serves 4 Prep time 10 minutes
Cook time 20 minutes
homemade beancurd
1/3 egg
100ml soy bean milk
pinch of salt
pinch of chicken stock powder
2 tsp dried osmanthus flowers
sauce and garnish
8 stalks Hong Kong choy sum or mustard greens
1/3 tbsp oyster sauce
100ml chicken stock
400ml oil for deep-frying
• To make beancurd, mix the egg, soy bean milk, salt and chicken stock powder thoroughly. Pour the mixture into a square or rectangular plate. Top with osmanthus flowers (which won't sink into the mixture) and steam for 12 to 14 minutes. Leave to cool.
• Cut the cooled beancurd into 4 large squares or to your desired shape. Deep fry in hot oil for about 3 to 4 minutes or until golden brown. Transfer to serving plates.
• Stir fry the mustard greens and place at the side of serving plates, as a garnish.
• Mix the oyster sauce and stock over moderate heat for about 2 minutes.
• Pour the cooked sauce over beancurd and serve hot.