Braised lamb with angelica
Also known as female ginseng, angelica root is used in Traditional Chinese Medicine as a strengthener of the heart, lung, spleen, liver and kidney meridians. Here, its licorice notes help cut through the rich flavours of lamb.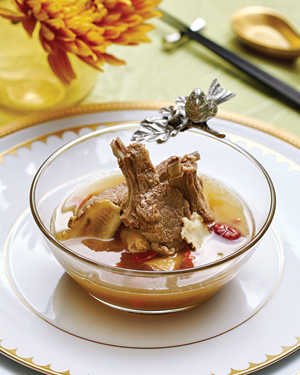 Serves 2-3 Prep time 10 minutes
Cook time 1 hour
½ tsp oil
100g ginger, sliced
400g lamb leg meat, flash-boiled and chopped into pieces
600g water
100g angelica root, sliced
5g wolfberries
5g red dates
2 pieces dried bean curd skin, soaked in water
¼ tsp chicken powder
salt, to taste
sugar, to taste
In a pan over medium high heat, heat oil and fry ginger slices until they start to turn brown.
In a pot, add fried ginger slices, lamb and water. Bring to a boil then simmer for 45 minutes.
Add the rest of the ingredients and simmer for another 10-15 minutes.
Dish into bowls and serve warm.
Read more in the January 2016 issue of epicure.