Braised Ibérico pork cheek and vegetable fricassée
Braised Iberico Pork Cheek and Vegetable Fricassée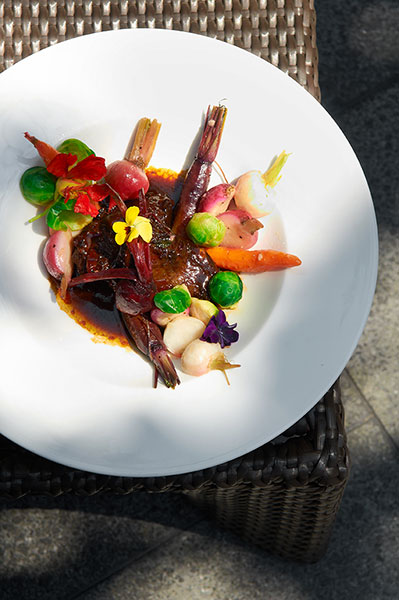 Serves 1
Prep time 20 minutes
Cook time 2 hours 15 minutes
10g baby carrots
10g turnips
10g radish
160g ibérico pork cheek, divided into 2 (available from Indoguna)
salt and pepper, to taste
1 tbsp olive oil
50g flour
100ml red wine
500ml chicken stock
10g mushrooms
Blanch the vegetables except the mushrooms in a pot of boiling water. Add salt if desired. Cool the vegetables in an ice bath and set aside.
Season the pork cheeks with salt and pepper. Add oil into the pan and sear the pork cheeks till they turn golden brown.
Dust the pork cheeks with flour, add red wine into the pan, and reduce the wine.
Add chicken stock, cover pan with a lid, and let it simmer for about 2 hours.
After two hours, check to make sure the pork cheeks are fork tender. Then add the mushrooms and cooked vegetables into the pan and braise for another 2 minutes. Serve.