Braised fertility duck
Braised Fertility Duck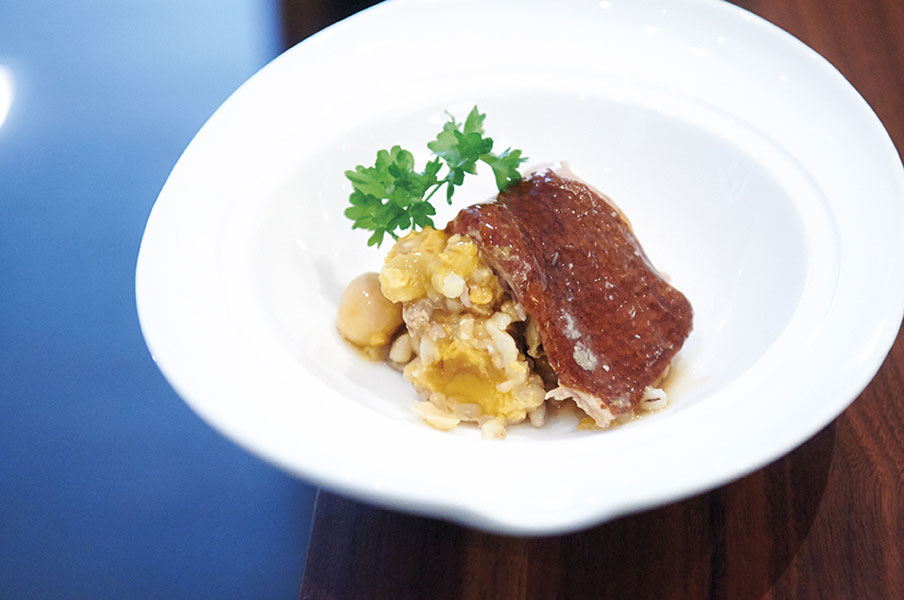 Serves 6
Prep time 35 minutes
Cook time 2 hours 15 minutes
1 fresh duck, approximately 2.5kg, cleaned and deboned
100ml soy sauce
10 salted egg yolks (or 5 yolks, each cut into half)
75g lotus seeds
75g canned or boiled gingko nuts
225g lily buds
10-12 chestnuts
small handful dried barley
2 stalks spring onion
cooking oil
5 slices ginger
2-3 bay leaves
2-3 dried amomum fruits
2 star anise
1 cinnamon stick
2-3 black cardamom
dash of corn starch, for thickening
Rub the entire duck with soy sauce and stuff with salted egg yolks, lotus seeds, gingko nuts, lily buds, chestnuts, barley and spring onions.
Heat up a wok with cooking oil to a temperature of 180-200°C. Deep fry the duck till golden brown. (If you don't have a large enough wok, thread the bird through a steel hook and ladle the hot oil onto the skin till it turns golden brown).
Rinse the fried duck in water to remove any excess oil. Strain away excess water, place the duck into a steamer and add scatter ginger and remaining herbs and spices on top.
Steam for approximately 2 hours till soft and fall-apart tender. Pour remaining juices in a pan and cook over high heat with a dash of corn starch till reduced and thickened.
Drizzle over the duck, tear open to reveal the stuffed ingredients and serve.