Braised chipotle beef meatballs by J's Restaurant
The Latin classic of juicy meatballs stewed in a delectable sweet spicy broth.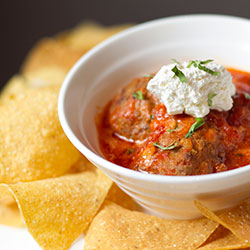 Serves 2 as a main meal; or 4 as an appetiser
Prep time 20 minutes Cook time 1 hour
meatballs
25g fresh bread crumbs 25g
25ml whole milk
400g ground beef
20gm chopped parsley
½tsp dry oregano 0.5 tsp
1 chopped sautéed onions 1 no.
1 chopped sautéed garlic 2 cloves
50g Parmesan
1 egg
salt & pepper to taste
Mix breadcrumbs with milk, add to cold ground beef.
Add rest of meatball ingredients and mix thoroughly.
Roll into 8 x 50gm balls and brown in hot cast iron pan until evenly brown and medium rare.
braising sauce
1 onion
2 cloves chopped garlic
3-4 sprigs rosemary
20g thyme
2 bay leaf
500ml canned chopped tomatoes
1-2tsp chipotle paste
500ml chicken stock
Sweat onions and garlic over low heat until soft.
Tie rosemary, thyme and bay leaf together with string and sauté in garlic and onion mixture.
To a braising pot, add in canned tomatoes, chipotle paste and meatballs and add in enough chicken stock to cover meatballs.
Season to taste.
Put a lid on and braise at 150°C for 1 hour.
Serve with sour cream, grated parmesan, extra virgin olive oil, chopped cilantro and fried corn tortillas.