Bougatsa (custard-filled phyllo pastries)
BOUGATSA (CUSTARD-FILLED PHYLLO PASTRIES)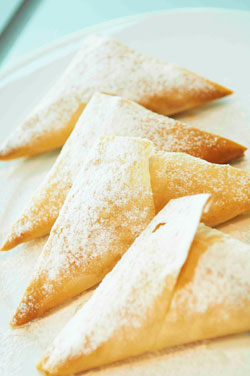 Serves 6-8
Prep time 25 minutes
Cook time 15 minutes
2 cups whole milk
¾ cup fine semolina
½ cup granulated sugar
1 tsp vanilla extract
melted butter, for brushing
24 sheets phyllo pastry dough
icing sugar, for dusting
ground cinnamon, for dusting (optional)
• Preheat oven to 180°C. In a deep pot over medium heat, warm milk with the addition of semolina, sugar and vanilla extract. Cook, stirring for a couple of minutes, until semolina is golden but not browned. The texture of the custard should resemble that of loose cream of wheat.
• Transfer to a bowl and allow to cool. If phyllo pastry sheets have not been precut, roll and trim to form approximately 3-by-12 inch strips.
• Melt some butter and brush on phyllo dough sheets. Fold each phyllo strip at the edge closest to you up a quarter way of each sheet.
• Place 1 tbsp of filling on the folded edge and fold diagonally to encase and form a triangular parcel at the end of the strip. Tuck in edges, take the pointed end of the triangle and fold upward, then over to the opposite side. Repeat until you reach the end of the strip.
• Brush parcel tops with melted butter and bake till golden brown, about 10-15 minutes.
• Sprinkle with icing sugar and cinnamon before serving.