Black sausages sicilian style
BLACK SAUSAGES SICILIAN STYLE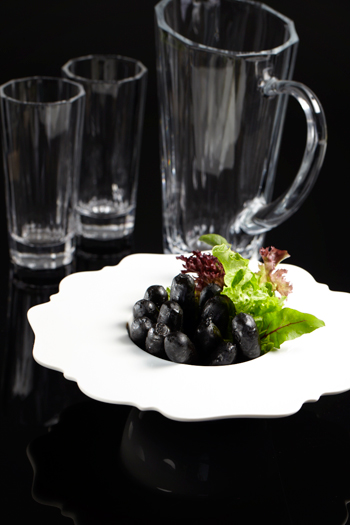 Serves 6-8 Prep time 1 day to rest & 30minutes
Cook time 25 minutes
½ kg pork meat
½ kg chicken meat
2 tsp fennel seeds, crushed
1 tsp coriander seeds
300g pork fat
¼ kg squid paste
2 tsp freshly crushed black pepper
1 tsp garlic powder
1 tsp onion powder
1 tsp crushed red pepper
1 black fermented garlic, smashed
2 tsp squid ink
1 tsp salt
1 tsp pepper
2.5 metre hog or sheep casing
garnish
1 tbsp olive oil
1 tbsp unsalted butter
2 tbsp honey
• Mince the pork, chicken and pork fat in a mincer twice.
• Lightly toast the fennel seeds for 2 to 3 minutes in a heated non-stick pan. Let it cool before blending 1 tsp of fennel seeds into fine powder.
• Lightly toast the coriander seeds in the pan for 3 to 4 minutes. Let it cool before blending the seeds into fine powder.
• Combine the pork and chicken meat, pork fat, and squid paste together and season with fennel and coriander powder, garlic powder, onion powder, crushed peppers, crushed black garlic, squid ink, salt and pepper
• Test the seasoning of the sausages by pan-frying 1 tbsp of the filling to taste. Then, stuff the filling into a piping bag. Pipe the filling into the casing till it's full. Every 5.5cm, pinch a section of the casing and twist away from you, to create links.
• Keep the sausages in the fridge for a day before boiling it in a pot of chicken stock at low heat for 5 minutes. Cool the cooked sausages.
• Heat a non-stick pan with olive oil, butter and fry the sausages for 3 minutes. Then, drizzle honey over the sausages as they cook.
• Remove from pan. Let them rest for 2 minutes before serving.