Black garlic coated tuna fillet with passion fruit and pineapple beurre blanc
BLACK GARLIC COATED TUNA FILLET WITH PASSION FRUIT AND PINEAPPLE BEURRE BLANC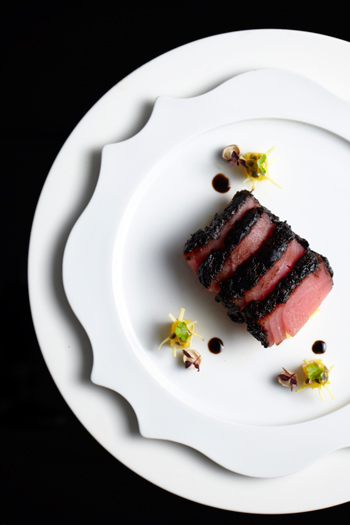 Serves 2 Prep time 1 hour
Cook time 15 minutes
passion fruit and pineapple beurre blanc
2 tbsp red shallots diced
½ cup white wine
½ cup double cream
½ cup unsalted butter
2 fresh passion fruits
1 cup fresh honey pineapples, diced
black fermented garlic paste
1 black fermented garlic, crushed manually into a fine purée (available at most supermarkets)
1 tsp honey
2 tsp olive oil
2 tbsp crushed bread crumbs
1 tbsp black pomegranate molasses
1 tsp unsalted melted butter
pinch salt and black pepper
1 200g to 250g tuna fillet, cut into rectangular slices of 7cm by 3cm
1 tbsp ginger powder
pinch salt and pepper
garnish
10g micro green shiso
• To make beurre blanc, heat up a pot with shallots and white wine until the liquid almost evaporates. Add cream gradually, followed by butter. Stir, then add passion fruits and pineapple cubes.
• Mix all ingredients for fermented garlic paste in a bowl. Set aside.
• Season the tuna fillet with ginger powder, salt and pepper. Let it rest for 1 hour. Then, spread a heavy coat of black fermented garlic paste on the tuna slices.
• Heat up a non-stick pan with oil and pan-sear the tuna fillet for 2 minutes on each side.
• Serve the tuna fillet with the passion fruit pineapple beurre blanc.
• Garnish with shiso.