Big bowl tiramisu
BIG BOWL TIRAMISU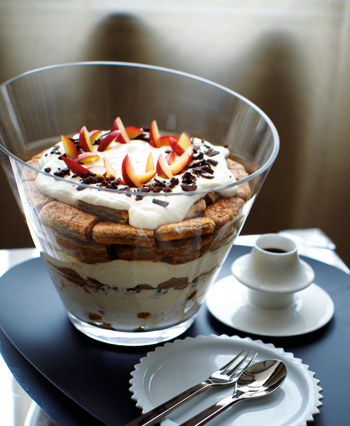 Serves 8 to 10
Prep time 10 minutes
Bake time 1 hour
lady fingers
4 egg whites
150g fine sugar
4 egg yolks
220g plain flour
½ tsp baking powder
• To make lady fingers, whisk egg whites to a soft peak, add 50g sugar, then whisk to a stiff and glossy peak.
• In a separate bowl, whisk egg yolks and 100g sugar together until thick and pale.
• Add flour, baking powder and half the egg white mix into the egg yolk mix. Fold lightly, then add in the other half of egg white mix.
• Stuff the mix into a piping bag and pipe onto baking sheet. Each lady finger should measure about 3 inches long. Leave a 1-inch gap between each lady finger.
• Preheat oven to 200°C, then bake lady fingers for 8 minutes, or until firm but only lightly browned. The texture should be spongy. Set aside.
6 egg yolks
½ cup fine sugar
150ml milk
½ tsp vanilla essence
150g egg whites
300ml heavy cream (whisked till stiff)
250g mascarpone cheese
2 tbsp Kahlua
½ cup espresso
40 lady fingers
garnish
1 tbsp cocoa powder
• Combine the egg yolks and sugar in a small pot and whisk well. Add in milk and vanilla essence.
• Whisk continuously while warming the mixture to a light boil in a low-heat bain-marie. Cool the mix in the fridge for 1 hour.
• Beat the egg whites to a stiff peak. Mix the egg yolk mix, egg whites, heavy cream and mascarpone cheese well.
• Combine the Kahlua and espresso well. Soak lady fingers into the mixture.
• Dip entire lady finger into the Kahlua and espresso mixture, then quickly layer with cream mixture in a big bowl. Don't dip lady fingers for too long or the biscuits will crumble. Dust final layer with cocoa powder.