Beet-cured salmon bagel with herbed cream cheese and gold leaf
When you're up so late brokering a business deal and it's a few hours before breakfast. Offset the ruby-hued lox with gold leaf for an added touch of luxe.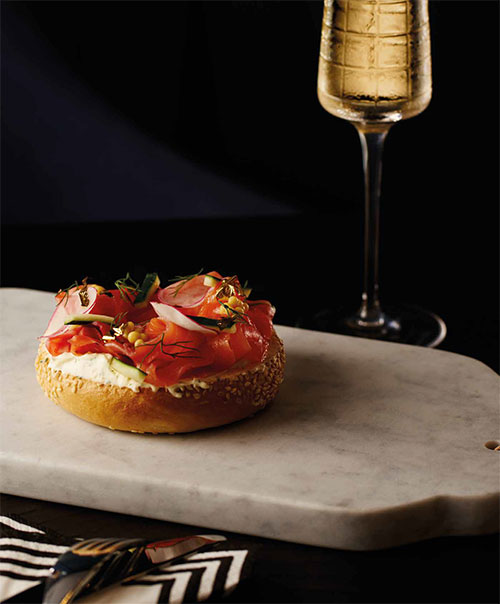 Serves 6
 Prep time 48 hours cure time (can be prepared in advance)
herbed cream cheese
125g cream cheese, at room temperature
30g finely chopped chives
2 tbsp finely chopped flat-leaf parsley
Combine all ingredients in a mixing bowl and blend with a wooden spoon until herbs are evenly incorporated. Set aside.
beet-cured salmon bagel
500g Atlantic salmon fillet (about 1-inch thick), skin-on
30ml Bourbon
60g coarse salt
120g white sugar
150g beetroots, washed, peeled and grated
1 bunch dill, minced
1 fennel bulb, diced
zest from 1 lemon
¼ tsp crushed red pepper flakes, optional
6 bagels, toasted
gold leaf, to garnish
Check fish for any pin bones, removing them with tweezers as needed.
Generously brush Bourbon all over fish (this helps with the curing). Place a large piece of plastic wrap in a large glass pan with a base as wide as the length of the fish.
In a large bowl, combine salt, sugar, beets, dill, fennel, lemon zest and crushed red pepper flakes if using. Place some of the mixture on the plastic wrap, place salmon over and top with remaining curing mixture. Wrap together tightly.
To cure the fish, place a heavy object on top of the fish to weigh it down. Prop the fish at a slight angle for juices to drain in order for a quicker cure. Refrigerate for 24 hours.
Drain juices and return to the refrigerator for another 24 hours.
Unwrap fish and rinse well. The skin should peel off easily at this point. If it doesn't, fillet it off with a sharp knife.
Slice off small pieces against the grain at an angle.
Spread herbed cream cheese on toasted bagels, top with salmon and garnish with gold leaf.