Beef rendang with begedil
The humble beef rendang is refashioned into a restaurant-worthy creation using wagyu beef and a red rendang sauce. It's a dish that gets better with practice—and the potato begedil balls and cherry tomato pickles are two optional sides for the less timestarved.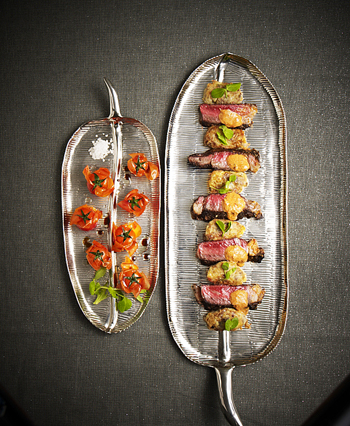 Serves 4
Prep time 25 minutes
Cook time 30 minutes
Rendang marinade for the beef
1 stem fresh lemongrass, bottom part, smashed
15g galangal, chopped
15g ginger, chopped
1½ tsp salt
2 tsp palm sugar
8 shallots, chopped
2 cloves garlic, chopped
1 tbsp coriander, toasted and grinded
1 tsp cumin, toasted and grinded
½ tsp fennel, toasted and grinded
½ tsp turmeric
1 tbsp tamarind juice
4 waygu ribeye steaks, 180g each
60ml vegetable oil
• Blend the lemongrass, galangal, ginger, salt, palm sugar, shallots and garlic into a fine paste in the spice blender.
• Add in the ground spices and tamarind juice. Marinate the meat for 3 hours or more.
• Grill the meat over a charcoal grill to medium doneness for 2-3 minutes on both sides or until cooked.
Red rendang sauce
6 tbsp sesame oil
5 garlic cloves, minced
2 tsp ginger root, grated
1 tsp ground turmeric
1 tsp curry powder
2 tsp ground cinnamon
1 tsp chilli powder
¼ tsp black pepper
2 lemongrass stalks
½ cup thick coconut milk
1 tsp sugar
1 tsp salt
1 tbsp butter
• Heat up a wok with sesame oil. Add the minced garlic, grated ginger, ground turmeric, curry powder, cinnamon, chilli powder and black pepper and cook until fragrant.
• When the spices are cooked and sizzling, add lemongrass followed by coconut milk, along with sugar and salt. Cover wok with a lid and leave it on low heat. Simmer for 10 minutes or cook until the gravy has thickened. Add butter before serving.
Potato begedil balls
4 cooked potatoes (about 180g)
80g minced beef
2 tbsp fried onions
pinch salt and pepper
1 tbsp flour
1 whole egg
• Mash the potatoes. Add minced beef, fried onion pieces, salt and pepper if desired. Mix well and mould into mini balls. Lightly flour the balls.
• Dip potato balls into the egg. Fry till potato balls till golden crispy or until they are cooked. Serve. The begedil balls can be kept in the fridge for a few days. To reheat, fry the begedil balls again for 3-5 minutes. Or warm in the oven for 5-7 minutes or microwave for 1 minute on top heat.
Cherry tomato pickles
½ cup apple vinegar
4 tbsp gula melaka
1 red chilli
¼ cup water
15 cherry tomatoes
• Combine all the ingredients, except the tomatoes, into a pot. Bring to a boil.
• Add tomatoes and simmer for 2 minutes. Turn off the heat. Let the tomatoes soak in the liquid for another 10 minutes. Scoop them out and drain the liquid. Serve with beef rendang.