Beef casserole
BEEF CASSEROLE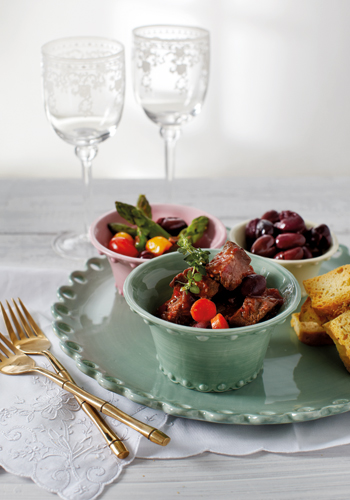 Serves 2 Prep time 15 minutes + 12 hours marinating time
Cook time 1 hour
150g pork bacon, back fat
500g beef cubes
marinade
2 medium-sized onions, sliced
2 medium-sized carrots, sliced
1 tomato, quartered
4 cloves garlic, crushed
20 peppercorns, crushed
1 litre dry red wine
45ml cognac
150g bacon rashers, diced
20g plain flour
450g tomatoes, skinned, seeded and chopped
salt to taste
175g Kalamata black olives, stoned
45ml olive oil
• Cut the bacon back fat into small strips of 3mm wide and 2.5cm long. Make deep incisions all over the surface of the beef cubes and insert the back fat into the incisions.
• Prepare the marinade: combine all ingredients except the olive oil in a non-aluminium container. Immerse the beef in the liquid and drizzle olive oil over the surface. Leave to marinate for at least 12 hours.
• After12 hours, heat up the mix in a pot to boil and simmer for 20 minutes.
• Preheat oven to 190°C. Roast the beef in the pot for 1 hour.
• Serve the beef warm.