Beef cajun meatball tacos topped with salad
Use a mini ice-cream scoop to mould the meatballs—it's faster and also forms a consistent size.
Serves: 4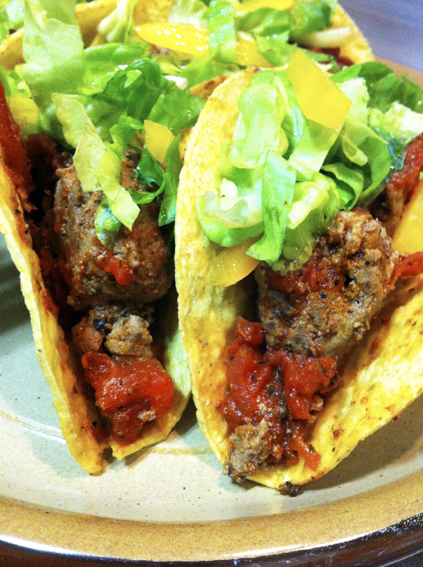 Prep time: 40 minutes
Cook time: 40 minutes
meatballs
1 kaiser roll
¼ cup water
600g minced beef
2 eggs, lightly beaten
4 tsp garlic, minced
salt and ground pepper, to taste
3 tbsp Italian herbs
3 tbsp cajun powder
1½ tbsp mustard
extra virgin olive oil
3 cans crushed tomatoes
raw sugar, to taste
8 hard tacos
• Tear hard roll into pieces and blend it until fine crumbs form.
• Toss crumbs with ¼ cup of water in a large bowl. Add beef, 1 egg, 3 tsp garlic, dash of salt and pepper, 2 tbsp Italian herbs, cajun powder and mustard. Mix well.
• Mould mixture into 1-inch balls.
• Lightly beat an egg in a bowl.
• Dip meatballs into the eggwash. In a non-stick pan, fry them in olive oil over high heat until browned.
• Add crushed tomatoes with juice (breaking up tomatoes), the remaining garlic and Italian herbs, and a dash of raw sugar into the pan. Season with salt and pepper to taste.
• Bring to a boil and simmer until meatballs are cooked through.
salad
1 baby lettuce or any salad greens of your choice, thinly sliced
1 yellow pepper, thinly sliced
freshly ground black pepper, to taste
balsamic vinaigrette, as needed
• Combine all salad ingredients. Season with pepper and balsamic vinaigrette.
• Serve meatballs in taco shells and top with salad.