Bánh cuốn (steamed rice rolls)
Reminiscent of chee cheong fun, our local version of rice flour rolls, these burst at the seams with minced pork and wood ear fungus, seasoned with just a splash of umami-rich fish sauce. The translucent skins are usually delicately steamed over a fabric covered pot but can also be made in a non-stick pan. They won't be as thin, but they'll do a better job of encasing the generous filling without tearing.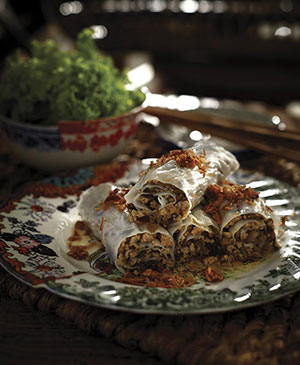 Serves 4-6
Prep time 25 minutes + 30 minutes soak time
Cook time 1 hour 15 minutes
minced pork filling
1 tbsp vegetable oil
3 shallots, minced
1 medium white onion, diced
450g minced pork
100g wood ear fungus, soaked in water for 30 minutes then drained and chopped into bite-sized pieces
1 tbsp fish sauce
pinch freshly cracked black pepper
Heat a saucepan with oil over high heat. When hot, fry shallots until fragrant and lightly golden brown.
Add diced onions, minced pork and wood ear fungus. Cook until onions soften and meat is cooked through. Season to taste with fish sauce and freshly cracked black pepper. Set aside and keep warm.
rice flour rolls
450g glutinous rice flour
400g tapioca flour
2.8 litres water
1 medium white onion, diced
vegetable oil, for brushing
4 tbsp fried shallots
In a medium bowl, combine glutinous rice and tapioca flours. Add water and stir well so that batter is free from lumps. Season with salt.
Heat a 28cm non-stick pan over medium high heat. Using a silicone brush, brush a very light layer of vegetable oil over the base of the pan.
Pour in a ladleful of batter (approximately 4-5 tbsp) and immediately tilt and swirl the pan so that the batter forms a thin, even layer.
Cook till batter forms a translucent crêpe, about 30 seconds.
Invert the pan and transfer the crêpe to a large aluminium work tray that has been lightly brushed with oil.
Immediately spread 1-2 tbsp of the minced pork filling on the centre of the crêpe. Fold in the side nearest to you to enclose the filling, then fold in the sides and roll tightly to enclose (like a spring roll).
Repeat with remaining batter and filling and top with fried shallots to serve.
Excerpt from the October 2014 issue of epicure.