Bangers and green pea mash with red onion relish and roasted vegetables
Get the best quality sausages from gourmet butcheries and make sure they are cooked on low heat to get a nice browned instead of burnt texture. If Dad prefers plain instead of green pea potato mash, sprinkle some chives over it and serve.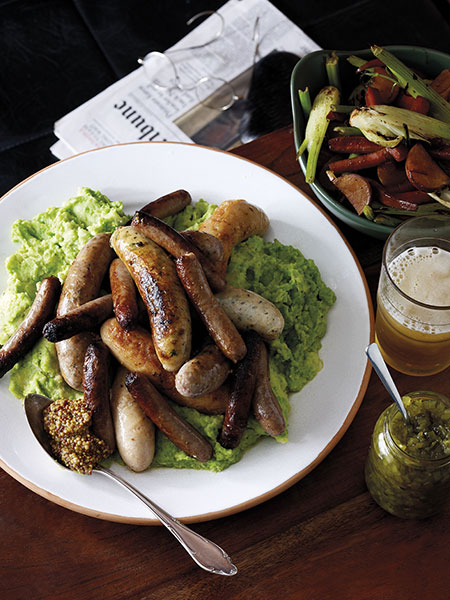 Serves 4
Prep time 15 minutes
Cook time 45 minutes
1 tbsp olive oil
400g assorted sausages
roasted vegetables
2 tbsp olive oil
2 tbsp minced garlic
130g carrot, cut to small dice
130g celery, cut to small dice
200g baby fennel
7 tbsp red onion
1 cup sweet white wine
1 cup chicken stock
green pea mash
500g russet potatoes (washed, peeled and cut into halves)
120g unsalted butter
200g frozen green peas, (blanch, cool down and blend to a fine puree)
1 cup double cream
salt and freshly cracked pepper to taste
• Heat up a pot of water to boil the potatoes for 20 minutes. Drain off the excess water, chopped up the potatoes, add in the rest of the green pea mash ingredients, mix it well to taste and keep warm.
• Heat up a non-stick pan with olive oil, lightly fry the garlic till golden brown, add in the vegetable ingredients and lightly fry it. Deglaze with white wine. Bring it to a boil and burn off all the alcohol. Then, add in the chicken stock, simmer to cook the vegetables until dry. Heat up the oven to 200 °C, further cook or dry the vegetable in the oven for 3 to 5 minutes.
• Heat up another non-stick pan with olive oil, fry the sausages to cook at low heat.
• Serve the sausages with the green pea mash and roasted vegetables.