Banana blossom and chicken pad thai
BANANA BLOSSOM AND CHICKEN PAD THAI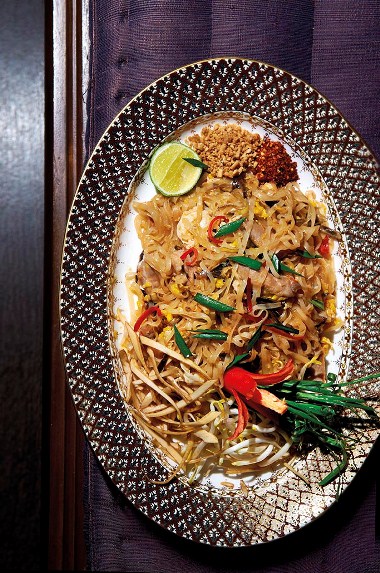 Serves 2
Prep time 30 minutes
Cook time 5 minutes
150g banana blossom
200g Thai rice noodle
800ml water
1 tbsp shallots
2 tbsp vegetable oil
50g chicken, sliced into 8 pieces
½ cup water
1 tbsp fish sauce
2 tbsp tamarind juice
1 tbsp sugar
2 eggs
2 stalks Chinese leek
garnish
peanuts, to taste
a wedge of lime
raw bean sprouts, to taste
Discard bracts (tough outer leaves) of banana blossom until leaves become too small to remove by hand. Remove pistils from florets, and cut them and other small leaves into thin slices.
Soak noodles in water for 30 minutes and rinse. Noodles should be flexible but not completely soft.
Stir-fry the shallots in a wok with vegetable oil till fragrant, and add chicken pieces. Cook chicken for about 2 minutes.
Add noodles and water into the wok, stir for about half a minute. Then add fish sauce, tamarind juice and sugar. Stir well till noodles are soft.
Add the eggs and stir to mix them with the noodles. Add sliced banana blossom and Chinese leek, and stir-fry for another 1 to 2 minutes.
Serve on a plate, and garnish with peanuts, a wedge of lime and raw bean sprouts.