Baked southern fried chicken
This modernised version captures the essence of fried chicken—the most classic of all African American soul foods but avoids the fat, it's baked not fried. The required crispiness is provided by crushed cornflakes clinging to rich buttermilk and spicy flour.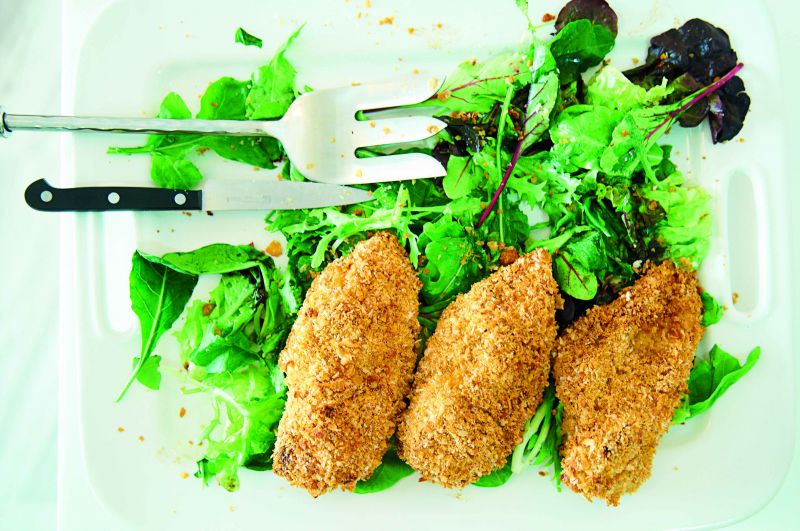 Serves 6-8 Prep time 20 minutes
Cook time 50 minutes
8 pieces chicken (breast meat) or 1 whole chicken (cut into 2 breasts, 2 thighs, 2 legs and 2 wings)
½ cup all-purpose flour
kosher salt to taste
ground black pepper to taste
4 cups cornflakes (unsweetened)
1 cup buttermilk
2 tsps Dijon mustard
¼ tsp cayenne chili pepper
1½ tsp paprika
¾ tsp ground sage
Preheat oven to 220°C.
Rinse the chicken in cold water and pat dry.
In a low baking dish add the flour and ¼ tsp of both salt and pepper, and mix evenly with a fork.
Place cornflakes in a resealable plastic bag and crush with a rolling pin until the consistency of coarse sand. Place cornflakes on a plate or baking dish.
In a wide bowl whisk together buttermilk, mustard, cayenne pepper, paprika and sage until even.
Dredge each piece of chicken first in the flour, then the buttermilk mixture, then roll in the cornflakes, making sure to fully coat the chicken all around.
Arrange the coated pieces on a rack in a roasting pan or baking sheet and cook for 15 minutes, then lower the heat to 190°C and continue cooking for 25 minutes, or until cooked through and juices run clear. Be careful not to overcook or chicken becomes dry. Serve immediately.