Bak kwa fried rice
Bak kwa adds a tinge of sweetness while fresh prawns provide extra crunch to this homespun recipe.
Serves: 4
Prep Time: 40 minutes
Cook Time: 20 minutes
prawn marinade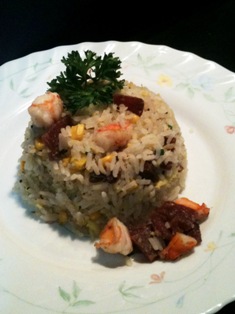 8 medium-sized tiger prawns
pinch salt
1 tsp sugar
pinch white pepper
2 tsp rice wine
4 tbsp cooking oil
4 cloves garlic, chopped
½ cup corn kernels
2 cups rice, cooked
2 eggs, beaten
2 slices barbecued pork (bak kwa), cut into 1cm squares
½ cube chicken stock
ground rock salt, to taste
freshly ground black pepper, to taste
⅛ cup spring onions, chopped
garnish
sprigs Chinese parsley
Peel, devein, then cut prawns into 4 pieces per prawn. Marinate prawns in table salt, sugar, white pepper and rice wine. Set aside for half an hour.
Add 4 tbsp oil into wok on high heat.
Add garlic when oil is hot and sizzling, then immediately reduce heat to medium. Fry till garlic turns light brown.
Add corn kernels and marinated prawns. Stir till prawns turn pink.
Add rice and mix well for 1 minute, then turn to low heat.
Slowly add eggs, stirring rice as you add to make sure all grains are coated. Increase temperature to high heat.
Add bak kwa, stir, then immediately add in chicken stock, salt and black pepper and mix evenly.
Stir in spring onions, then remove wok from fire.
Serve in bowls and garnish with a sprig of Chinese parsley.