Atlantic cod on barley risotto, piquillo peppers & vadouvan emulsion
Atlantic cod on barley risotto, Piquillo peppers and Vadouvan emulsion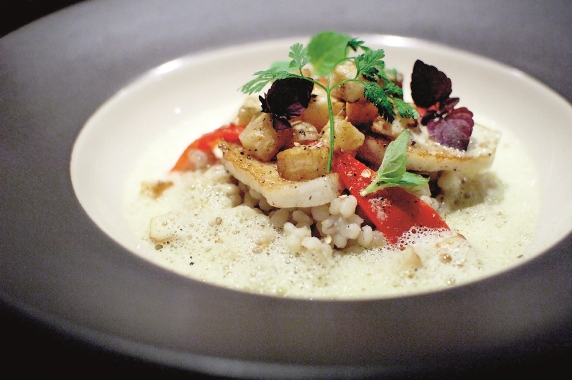 Serves 1
Prep time 30 minutes
Cook time 25 minutes
30g white onions, diced
5 tbsp olive oil
1 tbsp butter (optional)
50g organic barley, soaked in water for 5 hours
30ml white wine
salt and pepper, to taste
1 curl orange zest
1 curl lemon zest
100ml heavy cream
100ml milk
pinch Vadouvan spice blend (available at Waterfall Café)
juice from ½ a lime
1 fresh cod fillet (approximately 150g)
30g piquillo peppers, halved with seeds removed
20g celery root, cubed and sautéed till soft
In a large pot, sweat diced onions with 3 tbsp olive oil and butter (optional) until the onions are tender and colourless.
Stir in the barley and cook for 2 minutes. Pour in the white wine and bring the mixture to a boil. When the wine has evaporated completely, cover the mixture with water. Add salt, pepper, orange and lemon zests and stir continuously until the barley swells and becomes tender. Remove from heat and set aside.
In a separate pan, bring heavy cream and milk to a boil. Add a generous pinch of Vadouvan spice blend and let it infuse for 30 minutes (the sauce should turn a deep yellow colour as it reduces). Remove from heat and stir in lime juice.
In a non-stick pan, add remaining olive oil. Over low heat, sear cod fish skin side down until crisp. Flip fish over and turn off the flame. Leave fish to cook in the residual heat of the pan for 2 to 3 minutes before removing it.
Portion barley risotto in a pasta bowl and place fish on top. Garnish with piquillo peppers and sautéed celery root. Drizzle Vadouvan emulsion over and serve.