Apple strudel with whipped cream from inglourious basterds
In Inglourious Basterds, Colonel Hans Landa emphasised that Shoshanna should wait for the cream. And we absolutely agree that a dollop of vanilla scented cream brings the classic apple strudel to another level. Breadcrumbs add to the crunchy texture of this flaky dessert.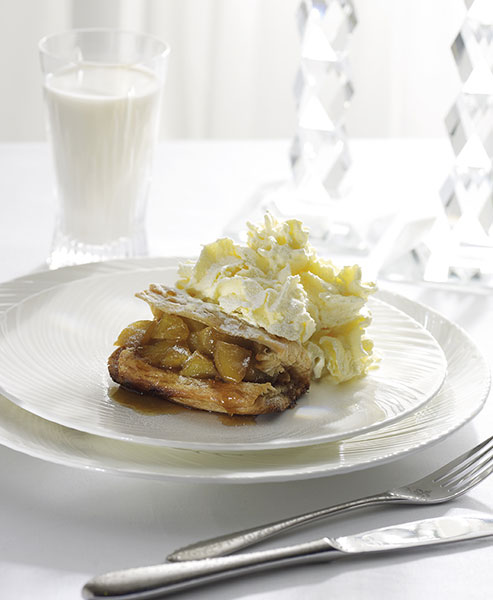 Serves 6
Prep time 10 minutes
Bake time 50 minutes
6 cups green apple wedges (peeled and cut to 12 wedges
¾ cup raisins
peel of 1 lemon peel, grated
¾ cup fine caster sugar
2 tsp cinnamon powder
¾ cup grounded almonds
1cup fresh breadcrumbs, finely blended
1¾ cups unsalted butter
4 sheets ready-made puff pastry
1cup double cream
2 tbsp fine caster sugar
Combine the green apples with raisins, lemon rind, sugar, cinnamon, and almonds together well and set aside.
Lightly toast bread crumbs with ¼ cup of butter until lightly browned or fragrant.
Roll out the puff pastry sheet to a 10cm by 15 cm rectangle. Use the prongs of the fork to poke holes all over the pastry.
Sprinkle ½ cup of toasted crumbs on the puff pastry.
Mound 3tbsp of the apple filling in the centre of the pastry, leaving a 2-inch border on the top and bottom.
Carefully fold the flap of pastry nearest you over the filling, fold in both sides and press the ends firmly together. You'll get a roll with the sides exposed.
Lightly brush top of the strudel with softened butter and sprinkle 2 tbsp breadcrumbs over. Place on a buttered baking tray.
Repeat the entire process for the second strudel.
Bake the strudels at 190°C for 20 to 25 minutes, until lightly browned.
Using an electric beater, whip 1 cup double cream to soft peaks then add in sugar and whisk to firm peaks.
Serve the apple strudel with a dollop of whipped cream.