Anchor grilled t-bone steak with bone marrow custard
Serve this handsome cut of meat with bone marrow that's coddled into a wobbly custard.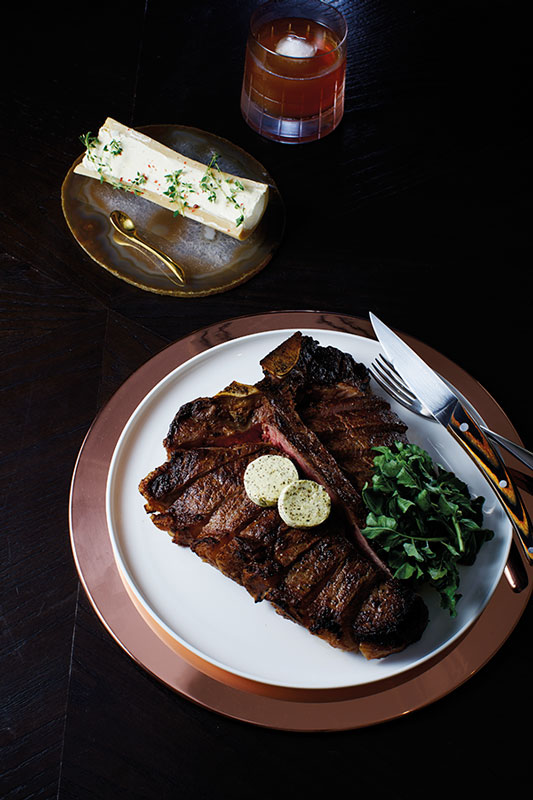 Serves 8 Prep time 45 minutes
Cook time 1 hour 30 minutes
1 tbsp olive oil
1/4 cup finely chopped shallots
1 tsp finely chopped garlic
2 sticks unsalted butter, at room temperature
1/4 cup Worcestershire sauce
2 tbsp dry mustard
3 tbsp finely chopped chives
salt and freshly ground pepper
2 cups coarsely ground black peppercorns
3 tbsp ancho chile powder
8 T-bone steaks, each approximately 300g
olive oil, as needed
salt, as needed
Heat oil in a medium skillet. Add shallots and garlic and cook until soft, let cool slightly. Place butter in a small bowl and add shallot mixture, Worcestershire, mustard and chives and mix until combined. Season with salt and pepper to taste. Scrape mixture into the centre of a piece of waxed paper and roll into a log. Refrigerate until firm.
Preheat grill. Mix peppercorns and ancho chile powder in a medium baking dish. Brush steaks with olive oil and season with salt. Dredge one side of the steaks in the pepper mixture and grill, pepper side down, until golden brown, about 5 to 6 minutes, turn over and continue grilling 6 to 7 minutes for medium-rare doneness. Remove from the grill and top with a slice of the chilled butter.
bone marrow custard
4kg beef marrow bones, cut about 3cm thick
6 eggs
375ml heavy cream
1 tsp finely ground unrefined sea salt
1 tsp finely ground black pepper
1 tbsp minced fresh flat-leaf parsley
Preheat oven to 220 ⁰C. Put the bones in a single layer in a roasting pan and roast for 30 minutes. Remove the pan from the oven and let the bones cool until they are comfortable to handle.
Decrease the oven temperature to 160 ⁰C. Extract the marrow from the bones with a spoon and drop it into a bowl, clean the bones and wrap the bottom with aluminum foil. Whisk the eggs and cream into the marrow, then pass the mixture through a fine-mesh sieve set over a bowl to remove any coagulated bits of marrow or lumps of egg. Whisk in the salt, pepper, and parsley.
Pour the mixture into the bones and place the ramekins in a large baking dish. Bake for 45 minutes, or until the sides of the custards are set but the centres remain a touch wobbly. Serve warm.