Ajo blanco with grapes, almonds and dry sherry
Blanching garlic cloves multiple times in hot water removes the germ, the centre sprout that lends the cold soup a bitter quality if left intact. Stale bread makes for better textured and flavoured breadcrumbs – at least two days old is ideal.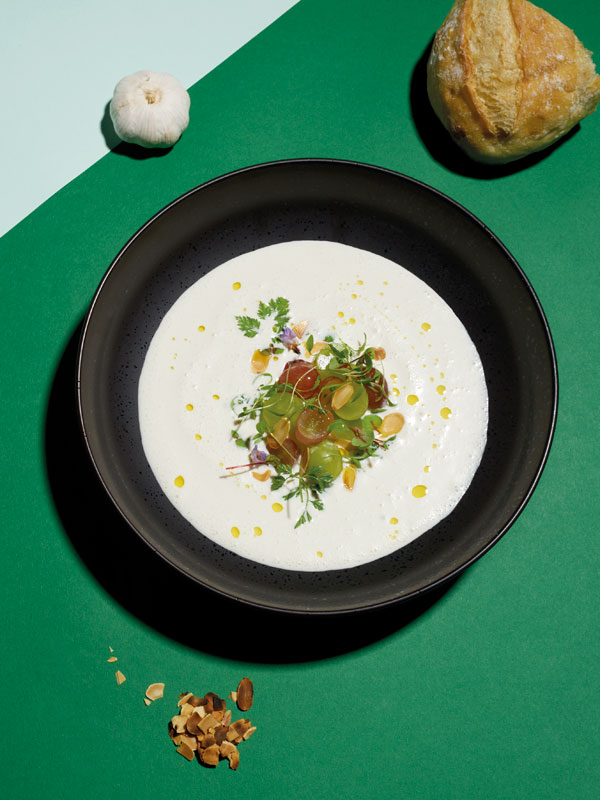 Serves 4
Prep time 10 minutes + 30 minutes marinating time
200g whole almonds, blanched with skins removed
100g breadcrumbs from 2 days old white bread
500ml mineral water
8 garlic cloves, blanched multiple times in hot water till centre germ removed
100ml extra virgin olive oil
2 tbsp sherry vinegar
2 tbsp dry sherry
2 anchovies
In a dry, hot pan, toast almonds until golden brown, shaking the pan occasionally. Let cool.
Mix cooled almonds with remaining ingredients and leave to marinate in the chiller for 30 minutes.
Blend the mixture in a Thermomix, food processor or blender until smooth. Cool over an ice bath to dispel any residual heat from the blending process. Adjust seasonings.
garnish
green and purple seedless grapes, halved
microgreens
3 tbsp heavy cream
Divide ajo blanco into serving bowls and garnish with grapes, microgreens and a drizzle of heavy cream.