Abalone dumpling in broth
Chef Chan of Peach Blossoms restaurant wanted to give the humble dumpling a different flavour profile, so he added abalone for a springier bite. The key to this dish lies in the chicken broth.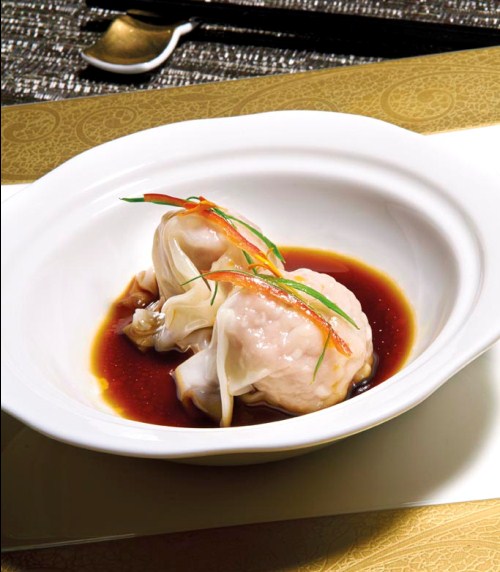 Serves 2-3 Prep time 1 hour
Cook time 10 minutes
chicken broth sauce
1 whole chicken
400g pig's trotter bone
1.6 liters of water
½ tsp dark soya sauce
20g fresh prawn, minced
40g pork, minced
20 head abalone, diced
pinch of chicken bouillon powder
pinch of salt
8 wonton wrappers
egg wash
garnish
spring onion, julienned
red chilli, julienned
Rinse the chicken and pig's trotters in hot water before immersing in water to boil into a broth.
Once boiled, add dark soya sauce.
Mix the prawns, minced pork and diced abalone.
Season with chicken bouillon powder and salt.
Put one tablespoon of the mixture on a wonton wrapper and fold into half. Seal with egg wash.
Poach until cooked in boiling hot water and serve in hot chicken broth sauce. Sprinkle spring onion and red chilli on top.