7-layer dip
Mexican Dips are a sure-fire hit at any dinner party. Make a healthier version of this dish by adding more freshly cut vegetables and using less sour cream.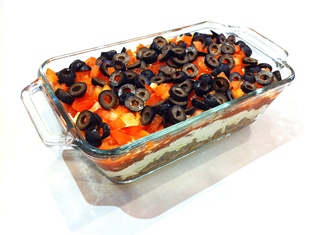 Serves 4 Prep time 20 minutes
Cook time 10 minutes
1 can refried beans, (available from belmontemex.com or Jasons Market Place)
400g ground beef
1 packet taco/burrito seasoning pack (available at Jasons Market Place)
2 ripe avocadoes
juice of quarter lemon
salt and black pepper to taste
4 tomatoes, diced
1 green peppers, diced
200g black olives, sliced
450g cheddar cheese, shredded
100-200g sour cream
1 can salsa
jalapeno peppers
2 packets tortilla chips
Heat up the refried beans on a pan over medium heat for 5 minutes. Set aside.
Fry ground beef over medium high heat. Drain excess fat.
Add taco/burrito seasoning and 50ml of water. Lower the heat and simmer for 5 minutes or until the sauce has been reduced.
Allow refried beans and ground beef to cool to room temperature.
In the meantime, mash avocadoes till creamy. Add lemon juice, salt and pepper.
Dice tomatoes, green peppers and slice the olives.
In a deep transparent casserole dish, add a layer of refried beans, followed by ground beef, cheddar cheese, sour cream, mashed avocado, salsa, jalapeno peppers. Top with another layer of cheddar, fresh tomatoes, green peppers and olives.
Serve immediately with tortilla chips.