Post with Sample Ads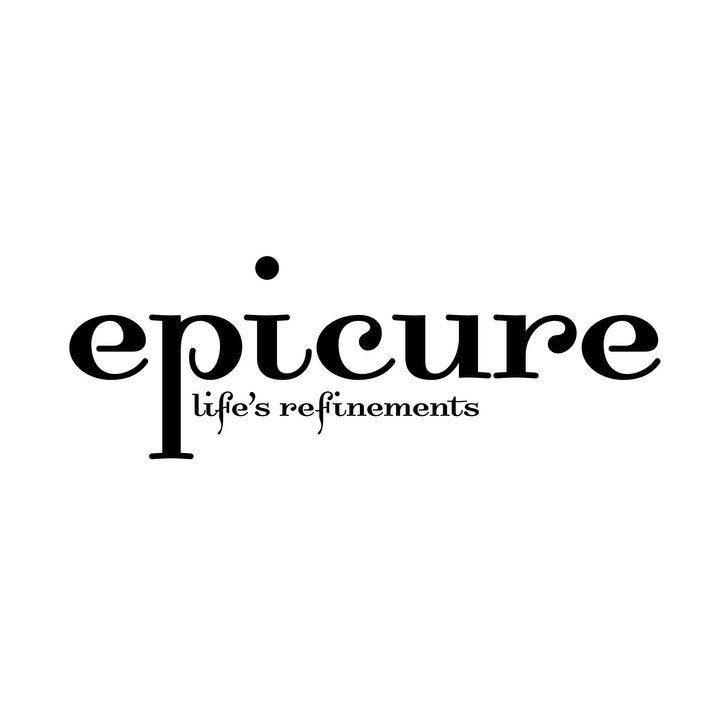 · 1 January 2010
·
Uncategorized
We singled out 10 spots for siew yoke that are worth your calories.
When it comes to the types of green tea, there's no match for matcha. The etymology of matcha stems from ma, the Japanese word for powder, and cha, which means tea; and the brew is undoubtedly a cut above its peers. The whole tea leaf is first ground before it's mixed with water, as compared to other teas which typically involve steeping leaves in water to infuse flavours. Higher grades of matcha are made from grinding younger leaves, and using a slow-turning wheel to preserve their nutrients and bright green colour.
Favoured for its delicate flavour, matcha is frequently used in ice cream, kakigōri and lattes, and typically paired with azuki beans, as the sweetness of the beans complements the earthy bitterness of the matcha.
Here at epicure, we believe there's always a reason to celebrate, and a party without cake is just a meeting. For this issue, we look at different types of cakes that have been given the matcha treatment – mousse, tiramisu, Swiss rolls, sponge, and even the delicate mille crêpe cake – to narrow down the 10 top picks.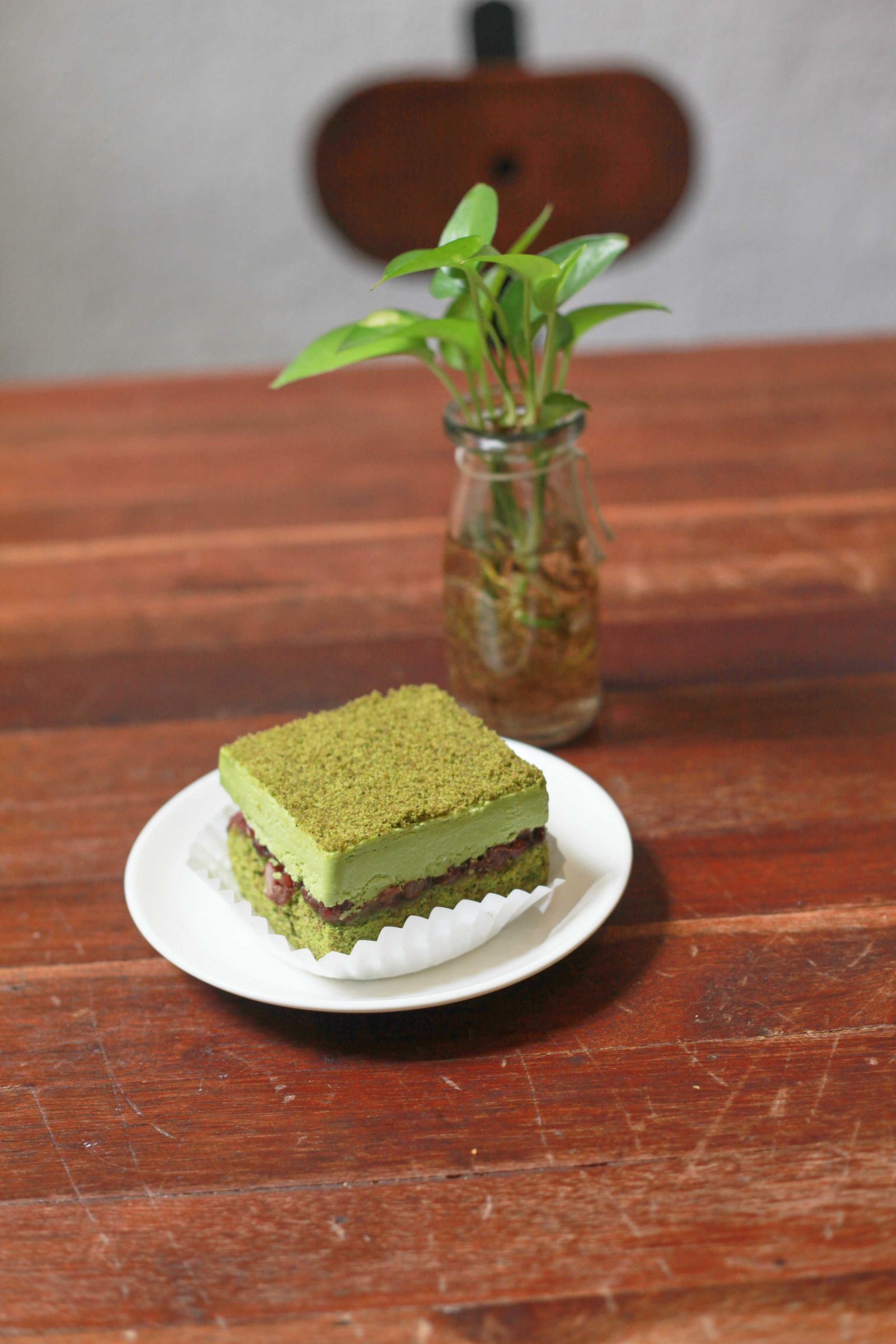 TWO BAKERS
Nestled in heritage-rich Jalan Besar is a quaint café, Two Bakers, which is helmed by a (female) duo who doles out simple yet tasty bakes. Their Matcha Fromage proves the point. Low on sugar, the rare cheesecake boasts an aromatic flavour from the Kyoto-imported matcha powder. The cheese custard is soft and almost mousse-like, yet exudes cheesy, earthy notes from the matcha infusion. A classic pairing of azuki bean cream melds the flavours together. 88 Horne Road. Tel: 6293 0329
HATTER STREET BAKEHOUSE & CAFÉ
A career switch from teaching led chef Yvette Chua to establish Alice in Wonderlandthemed Hatter Street in 2013. We went straight for her Devil Matcha cake. Inspired by the café's popular Matcha Latte, the whimsical cake comes topped with chocolate and candy garnishes on the dual-layers of green matcha mousse and dark matcha sponge. The mousse is a cross between a
thick custard cream and green tea gelato – decadent but not too saccharine. The delicate tea flavour comes through in each bite, without any tannic astringency. #01-333 Block 212, Hougang Street 21. Tel: 6988 4591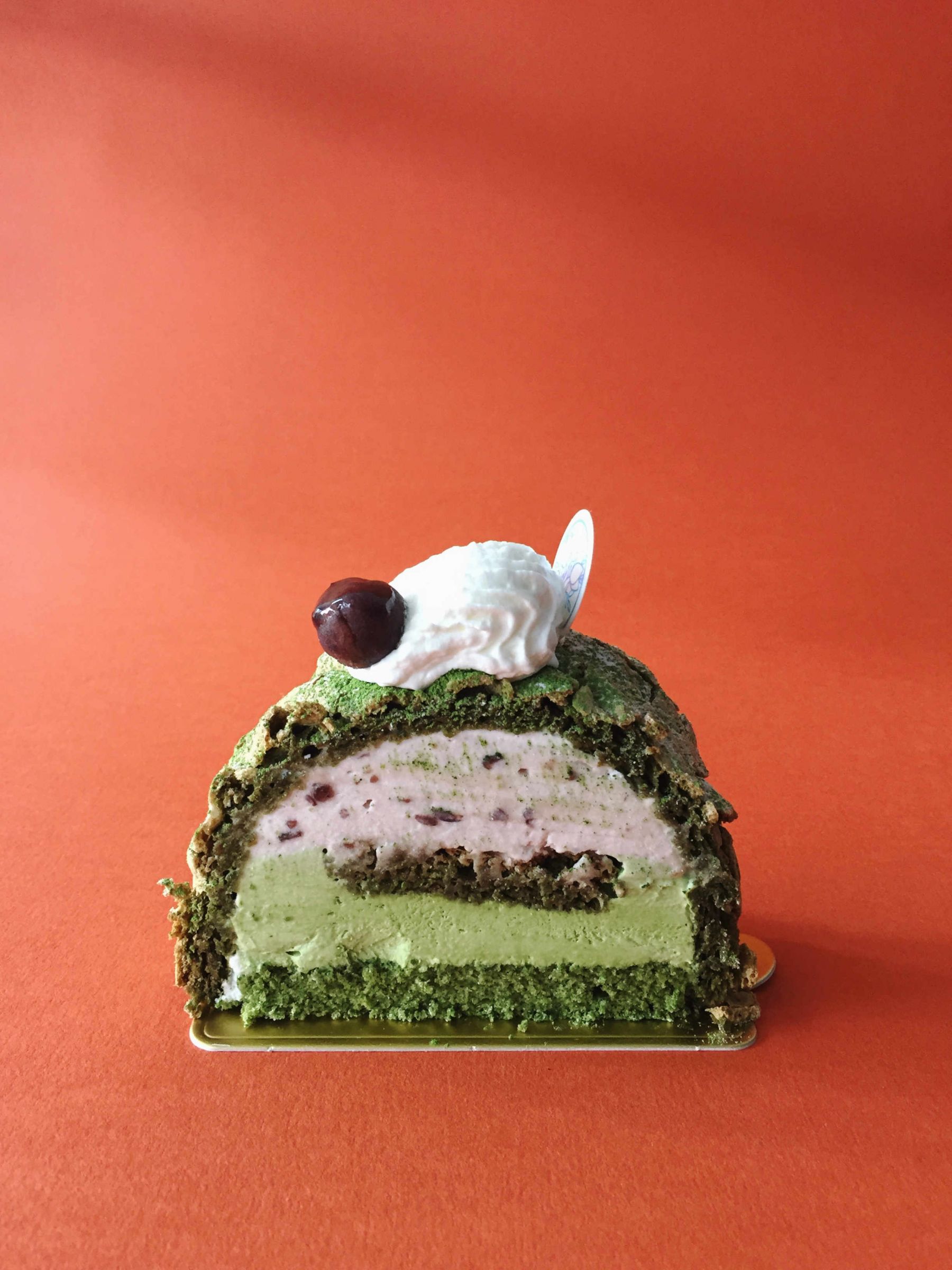 FLOR PATISSERIE
Known for their intricate Japanese-French pastries and cakes, this popular fixture along Duxton Road is a pro at containing the tricky, bitter notes of matcha. We love the Paris Vert, a picture-perfect treat featuring luscious azuki (from Hokkaido) and matcha cream encased in a flaky matcha meringue. Each mouthful reveals a balanced flavour and texture, and brings out the intensity of the fresh matcha. Whole leaves are sourced from a small plantation in the Shizuoka Prefecture and are only ground when needed. #01-01, 2 Duxton Hill. Tel: 6223 8628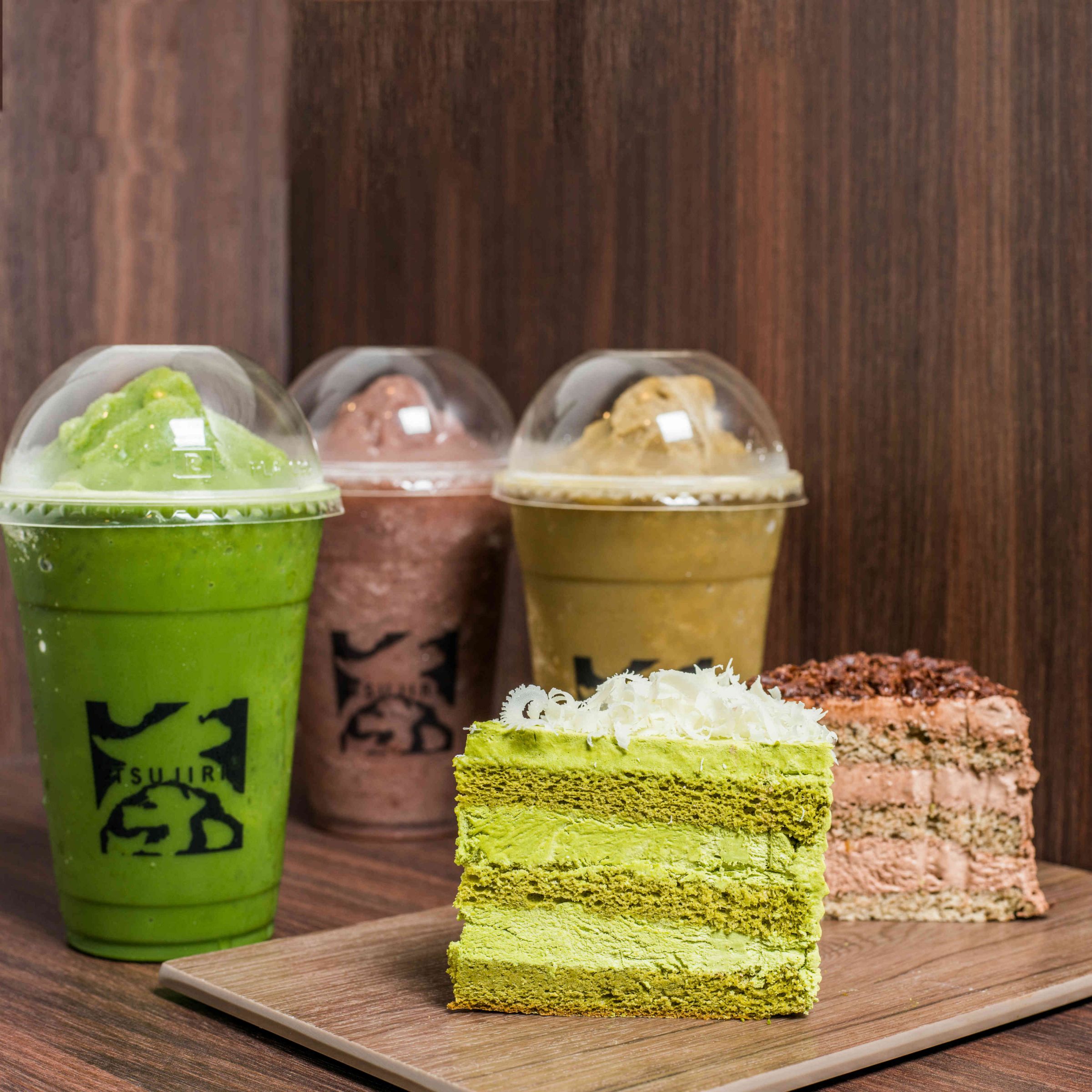 TSUJIRI
We can't find fault with Tsujiri's O-Matcha White Chocolate Cake. The layers of pillowysoft matcha sponges juxtaposed against the rich matcha white chocolate cream keeps us going back for more. We especially love the robust aroma and full-bodied flavour of the matcha, due in part to the 156-year-old tea house's use of tea leaves from Uji, Kyoto, and a traditional grinding method. It imparts a lingering sweet aftertaste. #01-101 The Centrepoint, 176 Orchard Road. Tel: 6238 8224
BAKER'S BREW
The elegant Matcha White Chocolate Cake is a layered butter-based cake composed of light matcha sponge layers, filled with matcha liquid cheese and crowned with a rich white chocolate frosting. The sponge layers are sandwiched by smooth Swiss meringue buttercream, creating a beautiful colour contrast. A sprinkling of slightly bitter matcha powder adds the finishing touch to balance the sweetness. #05-46 Paragon, 290 Orchard Road. Tel: 6909 0669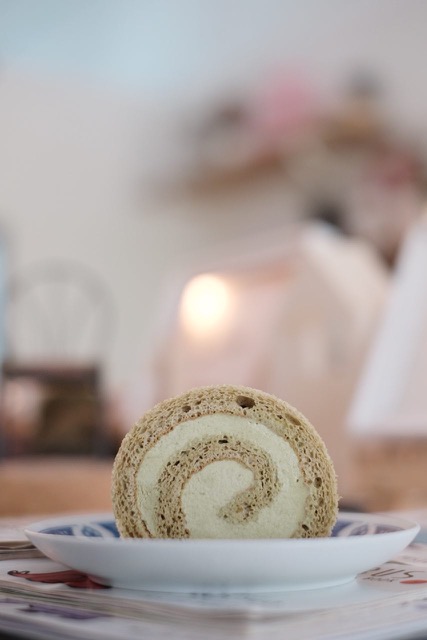 THE PLAIN JANE
As the name suggests, this café is famous for its unadorned and unembellished bakes, and, in particular, for its variety of homespun Swiss rolls. The moist, old-fashioned Japanese Not-So-Plain-Jane Swiss Matcha Roll comes in a faint green shade, the result of a lack of added colouring or preservatives. Light and fluffy, the simple roll is baked with pure matcha powder, and generously filled with a light matcha cream that offers a hint of lingering bitterness. #01-10, 211 Serangoon Avenue 4. Tel: 6281 2477
DULCET & STUDIO
Dulcet & Studio's Matcha Roll is light and moist, thanks to the French butter used in their batter. Evenly dusted with icing sugar, the sweetness cuts the matcha cream, presenting a not too-overpowering flavour – ideal for those who prefer a less intense version. #01-41/42 Liang Court, 177 River Valley Road. Tel: 6338 9248
PARIS BAGUETTE
South Korean bakery-café chain Paris Baguette's Matcha Crepe Cake has won over our taste buds. Their mille crêpe cake is one to look out for – layers of fluffy thin crêpes stacked together with light, milky matcha flavoured cream. #02-02 Wisma Atria, 435 Orchard Road. Tel: 6836 2010
L'ATELIER TIRAMISU
Although the first bite reveals a distinct sweetness, the dimensions of flavour within L'Atelier Tiramisu's Matcha Tiramisu gradually reveal themselves, including the green tea's nuances. Sponge fingers are soaked in matcha and rum, while the mascarpone cream is infused with green tea powder. The white chocolate layer balances the subtly bitter notes of the confection. A smattering of matcha powder on top of the tiramisu adds a slight textural contrast to the silky layers below. #B1-09 Clarke Quay Central, 6 Eu Tong Sen Street. Tel: 9389 8582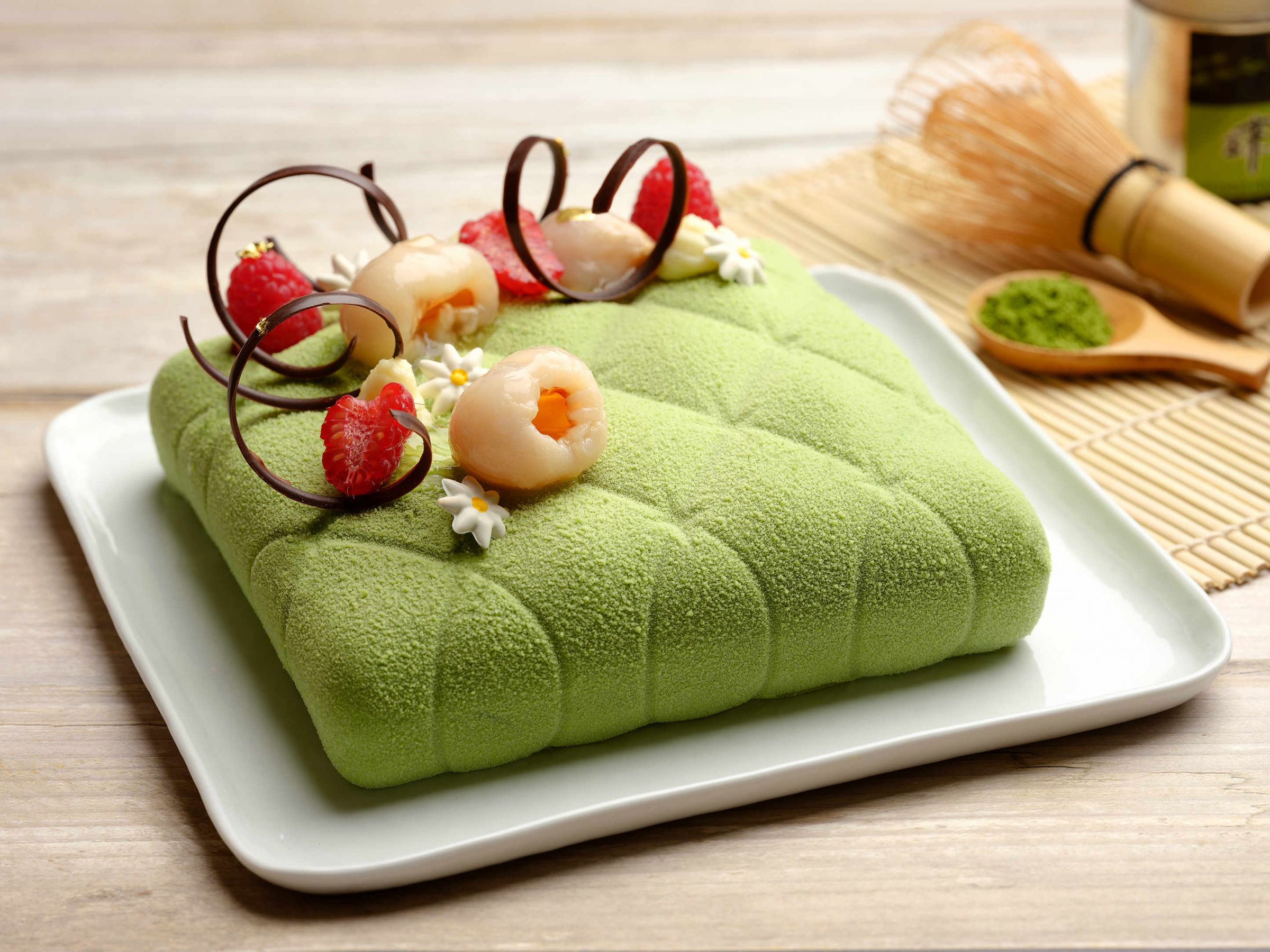 PACIFIC MARKETPLACE
The dainty Matcha Yuzu Lychee Entremet with a 'quilted' exterior from Pacific Marketplace is as delicious as it is beautiful. The mousse enveloping the fluffy sponge cake carries the distinct earthy and roasted aromas of premium Uji matcha powder, while the lychee curd and yuzu créme filling is refreshingly light and contributes a tinge of tartness. Enjoy without guilt as the cake is low in sugar. Level 1, Pan Pacific Singapore, Marina Square, 7 Raffles Boulevard. Tel: 6826 8240
SHARE