Best gelato in Singapore
It has a higher density compared to ice cream and is just what you need to indulge in to beat the humid weather. The cherry topping? A lower fat content. Here are the best joints.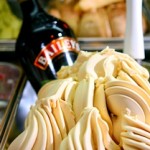 CHOCOLATO
This coffee and dessert go-to joint, tucked discreetly in an unassuming corner of Square 2, makes about 14 flavours of gelato daily. The Bailey's is our favourite: it may be filled with Irish cream but the alcohol level is beautifully balanced. For the teetotaller, the Biscottini is a safer bet but you may experience a sugar rush instead—think golden caramel cookie crumbs swirled within a cheesecake flavoured gelato. 10 Sinaran Drive, #02-68/69 Square 2. Tel: 6397 7358
ESTIVO GELATERIA
[CLOSED]
Thick and creamy are the buzzwords at this quaint, cosy gelateria which is housed on the ground floor of a service apartment. Each delightfully dense bite of the Coconut is accentuated by shreds of the desiccated fruit while the Horlicks hits the right notes for its rich, malty texture. The place fills up fast on weekends—an art and craft booth lets customers paint and hang their creations. 383 Bukit Timah Road, #01-05 Alocassia Service Apartments.Tel: 6469 6763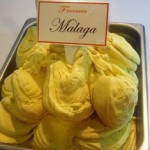 FRIGIDARIUM
This charming nook attracts a largely CBD following like no other. We think it has to do with the fact that the gelatos are machine-churned using Italian pasteurisers every day. As a result, all 16 flavoured gelatos are whipped to their full peak. The Malaga is a chilled creamy combination of sweet Marsala wine with bits of juicy plump raisins whilst exotic floral notes lend the Lavender a sweet, light punch. Servings here are generous, even the deceptively dainty Piccolo cups are filled to the brim. 146 Market Street, #01-40. Tel: 9244 6899
GALTA GELATO ITALIANO ARTIGIANALE
[CLOSED]
The gelatos are segregated into fruit-based sorbets or cream-based gelatos in revolving fridges for easy selection. Only milk, cream and chocolate from Milan and the freshest fruits are used to serve up their artisan range of gelatos. The Imperial Black catches your attention with its dark ebony shade. Made of dark chocolate, it is engagingly bittersweet with a pronounced cocoa taste. A sharp colour contrast, the ivory Vaniglia is rich and flavourful and dotted with vanilla bean specks. 9 Raffles Boulevard, Stall P1-08 Parco @ Millenia Walk.
GELATISSIMO
Their Fico Caramellato takes the award for being one of the most unique, yet delicious flavours among the gelatarias. Diced figs are swirled in a dense, buttery-sweet cream. Unexpectedly, the caramel sweetness is not cloying and doesn't leave you clamouring for water. Nut-lovers should try the Pistacchio for its savoury and gritty goodness. 350 Orchard Road, #01-01 Shaw House. Tel: 6736 1618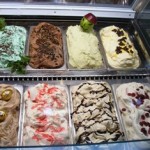 GELATO ART 
[CLOSED]
As the name suggests, each scoop of gelato is hand-crafted in small batches to ensure quality. All ingredients used, save for Australian milk, come from Italy (which makes this a good place for espresso-based drinks also). The XO Cranberry—tart ruby-red cranberries aged in brandy amid a creamy base—is a sophisticated remake of rum and raisin with the splash of liquor adding a luxuriant touch. The Durian may not be enough to convert fervent non-believers of the thorny fruit-king but still impresses with soft strands of the fruit entangled in the frozen gold cream. New Lifestyle Hub @ Sunset Way, #01-16. Tel: 9734-6243.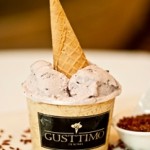 GUSTTIMO DE ROMA
Replicating their successful gelateria model from their hometown in Seoul, the owners of Gusttimo offer authentic Italian gelatos with a lighter touch, using recipes specially created to suit Asian tastes. Their Risonero is the premium version of pulut hitam with the toasting of black rice before it is mixed into the cream; this lends a smoky aroma that accompanies each chewy bite of the rice beads. Try the Formaggio too. You'd find a dairy-packed cream that is addictively smooth instead of a pungent cheese odour. 2 Orchard Turn, #01-17 ION Orchard. Tel: 6509 9380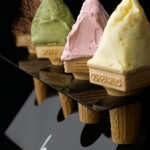 HAATO
[CLOSED]
Haato's flagship outlet (formerly known as Gelato di Crema) at Liang Court has been serving gelato created from traditional Japanese recipes for over 16 years. The Black Sesame has a strong, intense flavour whilst the Sweet Potato with Honey & Chestnut is a surprisingly comforting combination of sweet potato puree and globs of tender Japanese chestnuts laced with a golden honey drizzle. 3 Temasek Boulevard, #01-140 Suntec City Mall. Tel: 6836 7530
RICCIOTTI
Serving up a comprehensive selection of original Italian delicacies on Clarke Quay's river-front, Ricciotti is a great place for comfort fare as well as homemade gelato. The citrusy tang in the Lemon is one quick pick-me-up. But it's the Gianduja Chocolate that steals the show. Made from milk chocolate from Piedmont, it yields a smooth blend of hazelnut paste—the silken, luscious mouthfeel with an aroma of roasted nuts is hard to beat. Skip the condiments and syrups, this flavour speaks for itself. 20 Upper Circular Road, B1-49/50 The Riverwalk. Tel: 6533 9060
SCOOP OF ART
Situated within the Marine Parade community library, this part-gelateria, part-art activity café is not hard to miss with its bright inviting colours. Over 80 flavours have been developed since its opening in June (with 18 available daily). Devoid of artificial enhancers (and eggs in a number of vegetarian-friendly options), the gelatos boast full, fresh flavours. The Mars Bar and Sea Salt boasts generous chopped pieces of chocolate-caramel while the Milo is a powerhouse of not-so-sweet chocolate and milk. 278 Marine Parade Road, #01-03. Tel: 6345 6563