Turmeric chicken and lemon raisin rice
TURMERIC CHICKEN AND LEMON RAISIN RICE
Serves 6-8
Prep time 15 minutes
Cook time 35 minutes (chicken) 20 minutes (rice)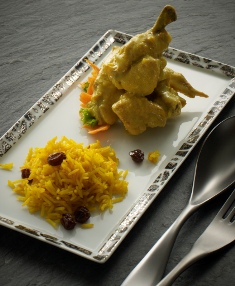 3 tbsp vegetable oil
4 cloves garlic, peeled and chopped
2 yellow onions, peeled and chopped
1 knob ginger, peeled and chopped
2 tbsp ground turmeric, mixed with warm water to form a thick paste
1-1.2kg chicken drumsticks and wings
2 tbsp salt
6 potatoes, sliced into large chunks
400ml coconut milk, more if desired
Heat vegetable oil in a large pot. Add chopped garlic, onions and ginger and sauté for 2 minutes before adding turmeric. Sauté for at least 5 minutes or until onions start to brown.
Add chicken wings and drumsticks and stir continuously till turmeric paste coats the chicken parts. Add water and fill till it reaches half the level of chicken. Season with salt. Add potato chunks.
Add coconut milk after 10 minutes. Stir continuously for a few minutes to prevent the milk from curdling.
Leave to simmer for another 15 minutes or more.
Let cool and serve.
3 tbsp vegetable oil
2½ cups basmati rice
1½ tbsp ground turmeric
juice from 1 lemon
water
1 tbsp salt
120g California Raisins
Heat oil in a saucepan. Add basmati rice and stir to mix.
Add turmeric and stir till it coats the rice evenly. Add lemon juice. Then add water till water level reaches about one inch above the basmati rice. Season with salt.
Close the lid and simmer for another 15 minutes. Mix raisins into the rice. Let cool.
Fluff with a fork before serving.
Tableware and cutlery from ToTT Store.