Purple spinach soufflé with chicken and cheese
Raw red spinach may not be to everyone's taste. This moreish treat is a great alternative for the dessert lover.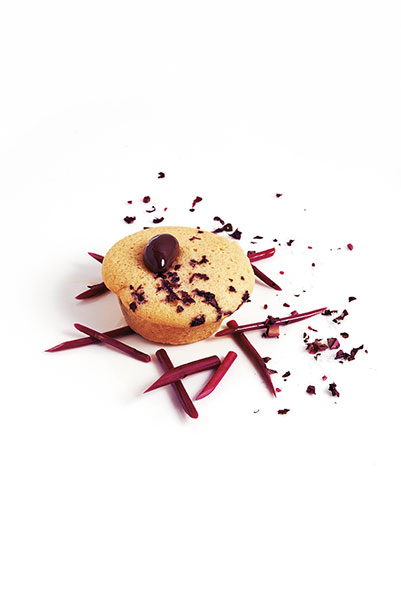 Serves 6
Prep time 25 minutes
Cook Time 20 minutes
Advertisement
soufflé base
150g unsalted butter, softened
100g plain flour
liquid base
1 litre milk
80g chopped red spinach, blanched
100g chicken, diced
1 small red onion, chopped
1tsp star anise powder
12 egg yolks
150g mature Gruyère, coarsely grated
150g mature cheddar, coarsely grated
85g Parmesan, grated
1tbsp Worcestershire sauce
1tsp mustard powder
1tbsp freshly squeeze lemon juice
Soufflé paste base: mix softened butter and flour into a crumble paste. Chill until firm for about 30 minutes.
Liquid base: heat milk in a pot with onions, spices and bay leaf to boiling point. Simmer gently for 50 minutes. Remove from heat and allow to cool.
Strain milk into a large pan and smash down on the onion to extract the flavour. Place the pan back onto the stove and gradually whisk in the butter paste, adding in small pieces until a thick sauce is achieved.
Season with salt and pepper, then leave to cool for 3-4 minutes.
Whisk in egg yolks, grated Gruyère and cheddar, plus two-thirds of the Parmesan. Add the Worcestershire sauce and mustard. Season with salt and pepper if needed, leave to cool. (Can be made 2 days ahead)
Brush the insides of a soufflé dish (approximately 20 x 8cm deep) with the remaining 25g butter, using upward brush strokes. Coat the base and sides evenly with some Parmesan and freshly ground black pepper. Chill to set.
Heat oven to 200°C, coat a large, grease-free bowl with lemon juice. Whisk the egg whites in the bowl, then fold a third of them into the cheese mixture. Carefully fold remaining egg whites and chopped red spinach and diced chicken into cheese mixture until well mixed. Be careful not to overmix.
Spoon half the mixture into prepared dish. Layer on Brie, Parmesan and Gruyère, and top with more mixture.
Bake for 10 minutes. Reduce oven to 180°C, bake for 15-20 minutes. The soufflé should be evenly risen and slightly wobbly.
Serve immediately. The centre will be soft, but will thicken slightly when served.