Naam ngeow (northern thai pork curry)
NAAM NGEOW (NORTHERN THAI PORK CURRY)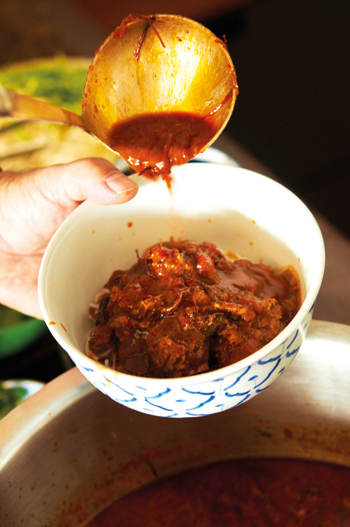 Serves 4-6 Prep time 20 minutes
Cooktime about 2 hours
for curry
2 tbsp olive oil
500g minced pork
1kg short pork ribs
1 medium onion, diced
3 tbsp garlic
4 tbsp belachan (fermented prawn paste)
2 tbsp fermented soy bean paste (preferably Thai)
1 tbsp Thai curry paste
2-3 tsp fresh ginger, crushed
1 tsp chilli padi, crushed
2 tsp dark soy sauce
fish sauce to taste
¼ cup (1 bunch) coriander stalks
2 tbsp dried Ngeow flower, chopped (available at Thai groceries)
water (as needed to cover meat)
1½kg thin rice noodles (vermicelli)
for garnish (place each item in individual bowls)
crispy roasted garlic
fresh bean sprouts
chopped coriander leaves
lime wedges
thinly sliced cabbage
crispy chicken skin
crispy pork crackling
• Heat olive oil in a heavy-based pot (or pressure cooker) over high heat and brown the minced pork, pork ribs, onion and 2 tbsp of the garlic, about 5 minutes.
• Meanwhile, with mortar and pestle, mash together the belachan and fermented soy bean paste, curry paste, ginger, chilli padi, soy sauce, fish sauce, coriander stalks, Ngeow flower and remaining garlic into a paste.
• Add the mixed paste to the pot with the pork and cook for another 3 to 5 minutes, stirring constantly to avoid burning.
• Add enough water to cover the pork and bring to a boil, then reduce to a simmer and cook until pork ribs are very tender (about 1½ hours) and liquid has thickened slightly. Note: a pressure cooker can be used to speed up the tenderising of the pork.
• While the curry simmers, boil the rice noodles to al dente and let cool to room temperature.
• When the pork ribs are very tender, taste the curry for seasoning, add fish sauce as desired. Transfer curry to serving bowl.
• To serve, put some noodles in a bowl and ladle a portion of the curry over them. Top with bean sprouts, coriander and assorted garnishes as desired.
• Squeeze a wedge of lime over it.