Khao soi with chicken and vegetables
The medium to full-bodied Chardonnay is able to stand up to the spiciness and creaminess of northern chicken curry noodle. Underlying hints of pineapple, zesty lemony flavours and bright acidity of the wine is a perfect fodder to the mouthwatering, piping hot soup.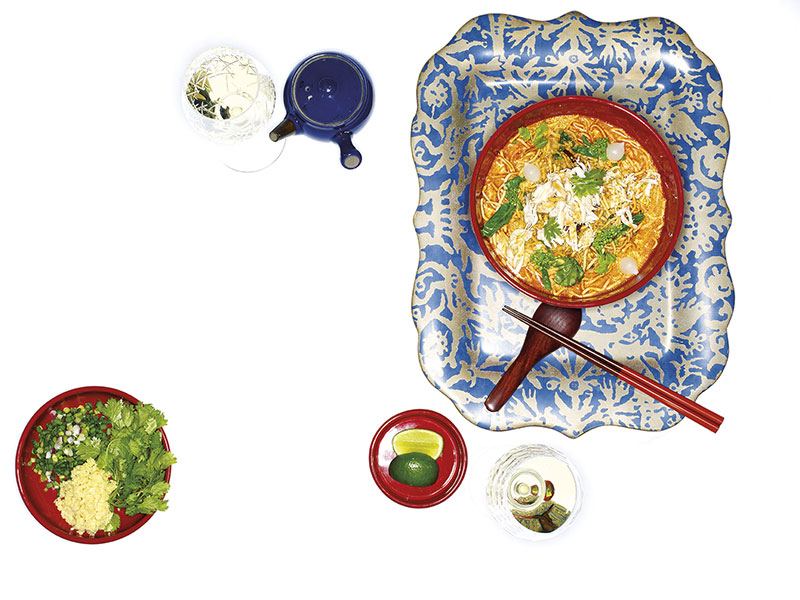 Wine: 2011 Xanadu Exmoor Drive Chardonnay, Margaret River, Australia
Serves 4
Prep time 10 minutes
Cook time 20 minutes
2tbsp olive oil
4 medium red onions, finely chopped
1½ inch ginger, peeled and thinly sliced
6-7 garlic cloves, smashed
65g fresh turmeric, roughly chopped
pinch chilli powder
500g fresh boneless chicken breast, cut to bite size
3 cups Xanadu Exmoor Drive Chardonnay or other full bodied white wine
3 cups chicken stock
salt to taste
½ cup coconut cream milk
3 cups instant noodles, blanched
garnish
½ cup chopped spring onions
½ cup sliced onions, fried till crispy
½ cup coriander, chopped
½ cup green chillies, chopped
½ cup garlic flakes, fried
1 hard-boiled egg, diced to small bits
4 tbsp roasted salted peanuts
2 tbsp soya sauce
2 green limes, cut into quarters
chilli padi (optional)
Heat up 2tbsp olive oil in a pot and fry the red onions till lightly brown and softened. Add the ginger, smashed garlic and fry till fragrant.
Add fresh turmeric and chilli powder and continue frying until the mixture turns light brown. Add chicken and fry for another 2 minutes over low heat.
Deglaze with 3 cups of white wine and allow it simmer for half a minute. Add chicken stock and let it simmer for another 3 to 5 minutes. Season to taste.
Thicken the soup with coconut milk.
Combine all the garnish ingredients in a big bowl and toss well.
Divide the noodles into four portions and add soup gravy.
Top with shredded chicken meat and garnish mixture.
Squeeze the green lime over it just before eating. For a spicier version, add in a couple of chilli padi into the soup.